Alumni Way at Michigan Tech: Husky Statue, Pavers Become Signature Pieces
By Jennifer Donovan | Published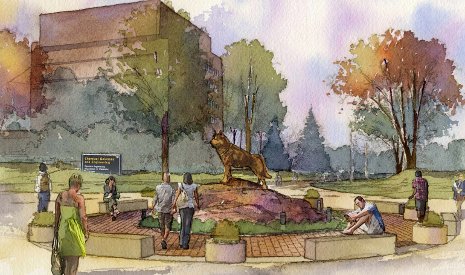 Deadline to Purchase Pavers is Saturday, May 31.
Instead of a Do Not Enter sign and wrong-way road, visitors to the west entrance of the Michigan Technological University campus will be welcomed by a walkway celebrating alumni.
For President Glenn Mroz, the Alumni Way project will "make the whole campus feel more like a campus. It's a sense of place, and so many of our students have affection for this place."
It's where students begin to make decisions for themselves, he said. "They start fresh, and they put their signature on it."
And, with personalized paver stones surrounding a new husky statue at the end of Alumni Way, between the Electrical Energy Resource Center and the Van Pelt and Opie Library, alumni and friends can again put their name on the campus.
Darnishia Slade, president of the Michigan Tech Alumni Association, seeks out "signature pieces," at other universities, that iconic landmark that says, "only this university has this."
"The larger-than-life [nine feet tall] husky statue and pavers will be our signature for Alumni Way and the University as we move forward," she said.
The Alumni Association Board of Directors wanted something that would allow all alumni and friends to contribute, Slade said.
"We came up with the pavers. They are tangible, and everyone can say, 'I got involved in Alumni Way,'" she said. "It's a legacy item, too. They can return to campus and see them."
Her paver will be a tribute to her mother, who encouraged her to go to Michigan Tech. "So generations of people will say, 'Wow, she had a great influence on her.'"
Others can leave their legacy, too, she pointed out.
In the latest development, a huge boulder has been discovered in Baraga County on which the husky statue will rest.
"We're rocking the dog," Mroz laughed.
What comes next? Landscaping and removal of the street behind the Administration and Student Services Building is a high priority. It'll be the start of a new, welcoming side of campus that will end with something for everyone to participate in and enjoy.
More information on the paver stones is available from Paula Nutini, director of annual giving, 906-487-3609 or pjnutini@mtu.edu, or the website: http://www.mtu.edu/alumniway/
Michigan Technological University is a public research university, home to more than 7,000 students from 54 countries. Founded in 1885, the University offers more than 120 undergraduate and graduate degree programs in science and technology, engineering, forestry, business and economics, health professions, humanities, mathematics, and social sciences. Our campus in Michigan's Upper Peninsula overlooks the Keweenaw Waterway and is just a few miles from Lake Superior.