Spring Break for Students Who'd Rather Do than Bask
By Jennifer Donovan | Published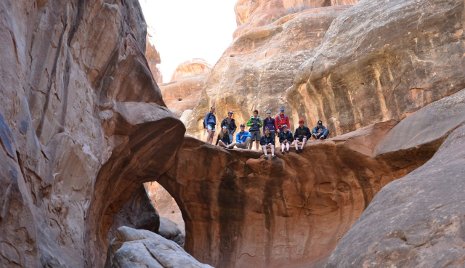 Imagine lying on the beach with the sun high in the sky, sand all over you and your skin turning from the color of the snow to that of a ripe tomato. Now, imagine kayaking and action sports, meeting Fortune 500 company executives, exploring the busy city of Chicago, or doing service work that makes a difference. Many Michigan Technological University students are participating in alternative spring breaks, a far cry from the stereotypical trip to party beaches in the south.
The School of Business and Economics is sending students to the hotbed of technological innovation, Silicon Valley in California. Fifteen Michigan Tech students from various majors are visiting Silicon Valley and calling on cutting edge business like Netflix, Google and Tesla Motors. They'll even be visiting Alcatraz Island.
They'll rub elbows with corporate representatives, many whom are Michigan Tech alumni, and get the inside scoop on eight different high-tech companies that "share their work ethic," according to one of the trip's organizers, Adam Johnson, associate director of corporate partnerships for Michigan Tech. "They love nerding out on stuff, working long hours, and they don't complain," he says, "Work and life are becoming one in the Bay Area, and our students fit well into that world."
Two groups on campus are sponsoring activities in Chicago. International Programs and Services conducts an annual trip to Chicago during Michigan Tech's spring break. They offer round-trip bus service so that students can escape the wintery isolation of Houghton. Participants are responsible for securing their own housing, but they have the freedom to explore Chicago until the bus brings them back. Good Shepard Lutheran Campus Ministry is also sending students to Chicago, where they will participate in the "Beyond Belief" mission program, hosted by The Lutheran School of Theology. "Beyond Belief" will help the students connect with people and have a unique cross-cultural mission experience.
The National Society of Black Engineers (NSBE) is doing a spring break service project. They will be hosting a weeklong trip to Detroit, where eight students from the organization will be visiting seven middle/high schools to give presentations on the value of attending college and majoring in engineering. They also will be hosting three family engineering nights. The schools they will be visiting are Western High, Bates K-8 Academy, Detroit International Academy, Davison Elementary – Middle School, Ben Carson High School, Spain Elementary, and ML King High School.
Some of the Michigan Tech students are from the metro-Detroit area themselves, and they know how important role models and information about college can be. "NSBE's mission is "to increase the number of culturally responsible black engineers who excel academically, succeed professionally, and positively impact the community." We use our spring break as an opportunity to give back to the city of Detroit by helping students understand the importance of engineering. We realize that by being there as individuals that younger students can relate to. We help instill confidence in them and prove that they can do whatever they put their minds to," says Taylor Driscoll, the chapter's president. The NSBE trip is conducted in collaboration with the Detroit Public Schools Office of Science and Detroit Math & Science Center. It is funded in part with a grant from John Deere.
Many Tech students find a good fit in the adventures that the University's Outdoor Adventure Program (OAP) offers during spring break. This year OAP is leading three trips: to Puerto Rico, the Smoky Mountains and Buffalo River. These trips are a way for students to get out of Houghton at a reasonable cost and enjoy outdoor, sports-style activities while they're gone.
Eight students will be heading down to Rincon, Puerto Rico with two OAP trip leaders, Carly Joseph and Ryan Vanlandschoot. They will be surfing, hiking, snorkeling, and "definitely soaking up the sun," says Joseph.
Students will also be going to Buffalo River where they will be backcountry camping at sites along the river. The Buffalo is one of the most scenic rivers in the nation. Most days will be spent canoeing on the river, but there will be plenty of adventure and fun.
Another 12 students will be traveling to the Great Smoky Mountains on a backpacking adventure. with OAP trip leaders Ross Perigo and Karl Schlicker. Without showers or access to electricity, they will sleep on the backcountry trails and in campgrounds, go on day hikes to Mt. Crammer and Gatlinburg, Tenn., try white water rafting on the upper Pigeon River and explore Mammoth Cave.
"When is the next time you will get a chance to get 14 friends together to backpack in the Smoky Mountains?" says Perigo. "As I get older and closer to graduating and the real world, I find that time at Tech is special. When I grow up, I won't have time as an engineer to get 10+ of my friends together for a week in the mountains; that's just life. Now is the time, and OAP offers these truly once-in-a-lifetime opportunities for students, and they are missing out on life by not going. Truly a now or never deal," he adds.
Although these are only some of the alternative spring breaks in which Michigan Tech students are participating, they offer a glimpse of what some Tech students are doing with their week off.
Michigan Technological University is a public research university, home to more than 7,000 students from 54 countries. Founded in 1885, the University offers more than 120 undergraduate and graduate degree programs in science and technology, engineering, forestry, business and economics, health professions, humanities, mathematics, and social sciences. Our campus in Michigan's Upper Peninsula overlooks the Keweenaw Waterway and is just a few miles from Lake Superior.