New Geological Heritage Website Focuses on the Keweenaw
By Marcia Goodrich | Published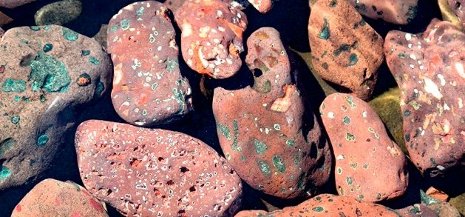 Retired Michigan Technological University Professor Bill Rose has unveiled a new website aimed at educating residents of and visitors to the Keweenaw about its geological heritage.
Sites rich in geological heritage, or geoheritage, are geological locations offering significant scientific, cultural or aesthetic value. The Keweenaw has dozens of them, says Rose.
"I taught at Michigan Tech for 43 years, from 1970 to 2012," he said. "I took hundreds of students outside and found many special educational places that teach about how the Earth works. This led to a lot of knowledge of outdoor places, and the Keweenaw and Isle Royale are very rich in geoheritage, a word we use to describe places that communicate between the Earth and people, places where the planet shapes our lives."
Visit the website at "Keweenaw Geoheritage" or by searching for "Keweenaw Geoheritage."
The smartphone-friendly Keweenaw site has GPS locations, maps, video, aerial photos and information on more than 200 locations in the Keweenaw and Isle Royale. It revolves around five main themes: Lavas and the Continental Rift, Red Sediments and Filling of the Hole, The Keweenaw Thrust Fault, Massive Ice Sheets and The Feel and Look of the Lake.
Rose developed the site when he realized that many people never acquired a basic knowledge of Earth science.
"A lack of public understanding of the Earth is a widespread problem—maybe worse in the US than many other places. Issues like global warming, natural hazards, natural resources and energy needs are widely misunderstood by the public and politicians," he said. "This creates unnecessary friction and destructive arguments.
"As geoscientists, it is our fault not to have more broadly explained these things. But we do live with them around us, and if we go outside and look more, understanding will grow. I see my grandchildren spending lots of time with their cellphones and TV, but I want them to go out and look at the world—especially here, where it is so beautiful and illustrative."
He has also designed guided field trips that will debut this summer through the Western UP Center for Science, Mathematics and Environmental Education. More information is on the Keweenaw Geoheritage website.
"Many people know very little about the geosciences. Having resources like this website available to the public can really go a long way in helping people to learn more about the natural and human history of their local area," said Jackie Huntoon, associate provost and dean of the Graduate School at Michigan Tech. "One of my personal goals for the upcoming years is to visit all of the sites, and I encourage others to do the same."
The site is hosted by the Department of Geological and Mining Engineering and Sciences at Michigan Tech. "Public outreach about our disciplines is vital and online resources are the most accessible and flexible approaches for sharing information about the local landscape," said John Gierke, interim chair of the department. "Bill Rose created a comprehensive factual resource that is readily accessible with today's smartphone technology, and our department will host the web information for students and the public to access in perpetuity."
Michigan Technological University is a public research university, home to more than 7,000 students from 54 countries. Founded in 1885, the University offers more than 120 undergraduate and graduate degree programs in science and technology, engineering, forestry, business and economics, health professions, humanities, mathematics, and social sciences. Our campus in Michigan's Upper Peninsula overlooks the Keweenaw Waterway and is just a few miles from Lake Superior.