"This Is Who I Am"—Preserving Indigenous Identity in a Mainstream Culture
By Danny Messinger | Published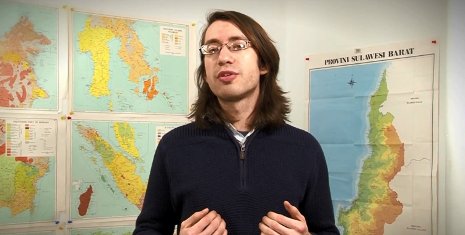 Language, culture, land and rights: four facets of indigenous life that Kalvin Hartwig hopes to safeguard. Hartwig, a 2010 Michigan Technological University social sciences graduate, aims to shed new light on important issues of indigenous life through This is Who I Am, a film he's spearheading.
The film's subject matter hits home for Hartwig, a member of the Sault Ste. Marie Tribe of Chippewa Indians. As a tribal member, he says he's seen the challenges many indigenous peoples face when they live as part of a larger population.
You can begin to see a lack of interest in preserving and celebrating one's original identity among some indigenous people, Hartwig says. Many others face pressures to assimilate into a dominant culture. Issues of language, culture, land and rights—a quartet of factors that creates a symphony of identity for individuals—can quickly be forgotten.
"We aim the film to inspire indigenous youth to be proud of their heritage despite possible geographic displacement and the effects of globalization," he says.
Hartwig, one of the film's co-founders, and his team of filmmakers (who are all indigenous or supporters themselves) have banded together to encourage the preservation and growth of indigenous identities worldwide.
This Is Who I Am is scripted to be short, clocking in at just six minutes, but Hartwig hopes the impact it has on viewers will be long lived.
"The film starts in New York City," he explains. "The main character, who is indigenous, feels lost in the big city. Halfway through, she meets a young girl in a park. She helps her realize that you can be indigenous in a big city. The main character overcomes burdens . . . becomes proud of her heritage."
Before the team turns their script into the final film reel, they're focusing their efforts on fundraising. The project has already been featured on a crowdfunding website, and now Hartwig says the team is reaching out to local tribes and sponsors to help close their funding gap.
Once the film wraps and the final frames have been edited, the film will debut at the 2015 Permanent Forum on Indigenous Issues at the United Nations headquarters in New York City.
"It's an astonishing place to show the film," Hartwig says. "The forum is an international platform to make recommendations to affect policy on a global scale. After we debut at the forum, we'll show it at film festivals and, hopefully, disseminate it through those who have seen it in New York."
After premiering, the team will also provide an online public platform for indigenous youth to share their stories and discuss the maintenance and celebration of indigenous identities.
For now, though, Hartwig continues to work tirelessly to bring the film to fruition.
"Really anyone will benefit from the concepts we're going to explore," he says. "Everyone can take responsibility for culture, land, language and rights. It's not specific to just indigenous youth."
To learn more, see the "This Is Who I Am" video on the Endangered Language Alliance website.
Michigan Technological University is a public research university, home to more than 7,000 students from 60 countries. Founded in 1885, the University offers more than 120 undergraduate and graduate degree programs in science and technology, engineering, forestry, business and economics, health professions, humanities, mathematics, and social sciences. Our campus in Michigan's Upper Peninsula overlooks the Keweenaw Waterway and is just a few miles from Lake Superior.