Tang Receives $2.5 Million Grant to Enhance Knowledge of Crop Genetics
By Marcia Goodrich | Published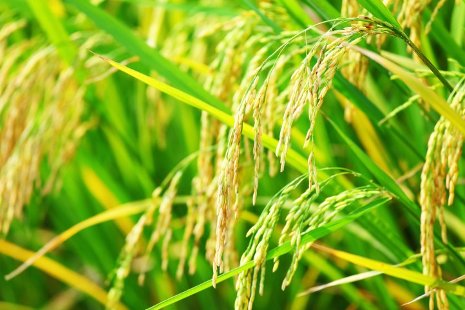 Cereal crops may seem as simple as snap, crackle, pop, but in reality they are among the most complicated species in the plant world, at least from a genetics standpoint. As a result, scientists have been hard put to tease out what genetic mechanisms are responsible for which characteristics. But now a biologist at Michigan Technological University is leading a $2.5 million project to do just that.
With support from the National Science Foundation, Guiliang Tang and his colleagues at Kansas State University and the University of California at Riverside are undertaking a three-year study of key genetic processes underlying three of the world's most important food crops: maize, rice and soy. Ultimately, their discoveries could lead to the development of crops with higher yields and greater resistance to stressors such as drought and insect pests.
They will use a tool several years in the making. Tang conceived of the technology, called "small tandem target mimic," or STTM, in 2007, when he was at the University of Kentucky. He perfected it after joining the Michigan Tech faculty in 2011. "You need to look at things for awhile to have a discovery," said Tang. "It can be a painful process."
In this case, it has been worth the wait. Tang's team developed a way to knock out short snippets of RNA known as micro-RNA, or miRNA. These specialized RNA molecules bind to long RNA molecules and cut them in two before they have a chance to make proteins, the building blocks of life. Thus, miRNA molecules serve as spoilers, blocking the action of the genes that make the RNA.
By knocking out selected miRNAs in soy, maize and rice, those blocked genes will be able to express themselves, and their RNA will be able to make protein freely. The scientists will gain a greater understanding the role miRNA plays in making plants more resistant to stress. What they discover about plant genetics may lead to more productive, disease-resistant crops.
They will also work to dissect the evolutionary history of the hundreds of thousands of miRNAs in these plants. "We want to find out why they have so many miRNAs," Tang said. "We're looking at two kinds of plants: rice and maize are monocots, and soy is a dicot. We know they share some of the same miRNAs, but they function differently some point. We want to see when in evolutionary history their functions diverged."
With support from the NSF, Tang's team will also host a workshop that will bring in 10 select graduate and undergraduate students from universities across the US and introduce them to the miRNA-blocking technology.
Co-principal investigators on the research project, "Inactivation of microRNAs in Crop Plants Using Short Tandem Target Mimic (STTM) Technology," are Associate Professor Hairong Wei of Michigan Tech, Howard Hughes Medical Institute Investigator Xuemei Chen and Wenbo Ma of UC Riverside and Harold Trick of Kansas State.
Michigan Technological University is a public research university, home to more than 7,000 students from 54 countries. Founded in 1885, the University offers more than 120 undergraduate and graduate degree programs in science and technology, engineering, forestry, business and economics, health professions, humanities, mathematics, and social sciences. Our campus in Michigan's Upper Peninsula overlooks the Keweenaw Waterway and is just a few miles from Lake Superior.