Pasties, Hollywood and Outdoor Fun: Alumni Reunion 2014
By Marcia Goodrich | Published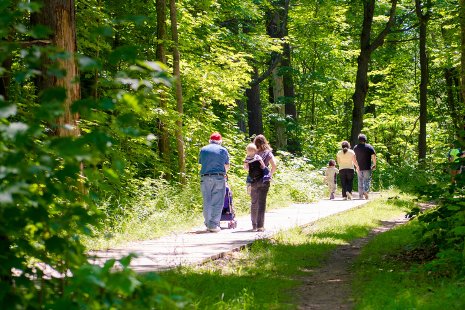 Was the perfect storm really perfect? And what's with all those new-fangled classroom do-dads? Visitors at Michigan Technological University's 2014 Alumni Reunion can learn the answers to these very different questions at two intriguing Tech Talks. One looks at the latest classroom technology, the other takes a scientific look at two Hollywood blockbusters.
Both talks are free and open to the public. Lots more fun and interesting campus events are planned for Alumni Reunion, Aug. 7-9. You can also canoe, bike or hike in the great outdoors and explore the Keweenaw Waterway in the University's research vessel, the Agassiz.
Reunion is a great opportunity for all former students and members of the University community to meet new friends and rekindle old relationships. The featured groups this year include the Classes of 1964, 1974, 1984, 1989, 1994 and 2004, as well as the Golden Ms, who graduated 50 or more years ago. This year's affinity groups are women's basketball, tennis, Sigma Rho and Sigma Tau Gamma.
Plus the Ford Forestry Center is celebrating its 60th anniversary. And the Seaman Mineral Museum is offering free admission throughout reunion to attendees wearing their nametag. Hours are 9 a.m. to 5 p.m.
"Wings of Angels"
The public can view "Wings of Angels," a documentary film featuring mechanical engineering seniors, in the lobby of the MEEM building throughout Alumni Reunion. The movie will be shown on the hour, 8 a.m.-5 p.m., Thursday-Saturday.
The documentary, produced by General Motors, features students in a Senior Capstone Design project to improve the handcycles used by amputee veterans to compete in marathons.
"It is a heart-moving film about our students and how they made a difference in the lives of these courageous wounded veterans," said Bill Predebon, chair of the Department of Mechanical Engineering-Engineering Mechanics. "Although it started as their Senior Capstone Design project, you will see it became much more for them; it became their passion."
Registration information
All of the following events are open to the public, and many are free. You can sign up by going to Michigan Tech Reunion and clicking the registration button at the top. Or, you can register and buy tickets by calling 906-487-2400 or visiting the Alumni Reunion Registration Area, which will open in the Memorial Union on Wednesday, Aug. 6. Attendance at some events is limited, so consider registering early.
Thursday, Aug. 7
Reunion opens at 8:30 a.m. with the Welcome Breakfast in the Memorial Union Ballroom. Tickets are $12, $5 for children 6-12, and free for children under 6. Immediately after breakfast, at 9:30 a.m., student tour guides will lead alumni on a free walking tour of campus, starting in the Memorial Union Ballroom.
Two Tech Talks follow in Fisher 139. Physics faculty members John Jaszczak and Michael Meyer (who also directs the Center for Teaching and Learning) will present "From Slide Rules to iClickers: Learning at Michigan Tech, Then and Now" at 10 a.m. In this interactive session, they will introduce the technologies that are the hallmark of "blended learning" and modern classrooms.
"Hollywood Meets Ocean Science: 'The Perfect Storm' and the 'Search for Red October'" follows at 11 a.m. Guy Meadows, director of the Great Lakes Research Center, will use applied physics to answer these questions and more: "Could the perfect storm really occur? And how do submarines communicate underwater?"
Wadsworth Dining Hall is open for lunch, and everyone is invited to check out the typical student dining experience. Cost is $9, free for children under 6.
The Pasty Picnic follows at 4 p.m. on the campus green between the Electrical Energy Resources Center and the Chemical Sciences Building (rain site: Memorial Union). Pasties, pickled eggs, KBC beer, salads, desserts and other beverages are included. Tickets are $16, $7 for children 6-12, free for children under 6.
The day ends with the Keweenaw Alumni Chapter and Friends Social, which begins at 6 p.m. at the Keweenaw Brewing Company.
Friday, Aug. 8
President Glenn Mroz will give a talk on where the University is and where we are headed at the All-Class Alumni Breakfast, which begins at 8:30 a.m. in the Memorial Union. Tickets are $12, $5 for children 6-12, free for children under 6. The Graduate School will host a poster session in the lobby.
Have you ever jumped off a diving board or used a ball thrower? Kids will have a chance to build their own launchers--devices that propel an object by turning stored energy into kinetic energy--at the Children's Science Exploration, set for 10 a.m. at the University waterfront by the Great Lakes Research Center. The event is free, and parents and grandparents are welcome. Preregistration is required.
Then at 10:30 a.m., the Golden Ms will receive their pins and certificates from Mroz upstairs in the ballroom. The Golden M Luncheon follows at noon; tickets are $14, free for children under 6.
Wadsworth Dining Hall will again be open for lunch from 11 a.m. to 1 p.m. Cost is $9, free for children under 6.
Starting at 1 p.m., boat tours in the RV Agassiz will leave hourly from the Great Lakes Research Center dock until 4 p.m. Tours are $5.
Many departments are holding open houses beginning at 1:30 p.m., and the Admissions Office is leading guided tours of campus starting at 2 p.m.
The Alumni Reunion Dinner closes the day, with a 5:30 p.m. social followed by dinner at 6:30 p.m. Tickets are $30, $15 for children 6-12, free for children under 6.
Saturday, Aug. 9
Start the day with an 8:30 a.m. coffee break at the Alumni House. Then get out and enjoy the Keweenaw, courtesy of Tech's Outdoor Adventure Program. "These tours have been really popular," said Kay Larson, assistant director of alumni relations. "By the end, everyone in the group is friends."
The Outdoor Adventure Program is hosting a four-hour canoe trip on the Sturgeon River. Meet at 9 a.m. at the Alumni House. Cost is $25 and includes all equipment, transportation and snacks.
At 2 p.m., Outdoor Adventure Program is leading its first Alumni Reunion mountain-biking tour of the Michigan Tech Trails, on Sharon Avenue. The cost is $15. Equipment will be provided, or you can bring your own. The bikes provided cannot accommodate those under 5 feet, 2 inches tall.
If you'd rather walk than ride, join the Keweenaw Waterfall Tour and Hike, which starts at 2 p.m. The $25 cost includes snacks and transportation to Hungarian Falls, Jacobs Falls and Eagle River Falls. A portion of the proceeds will go to the Keweenaw Land Trust to preserve public access to Hungarian Falls and other natural resources.
For more information, visit Michigan Tech Reunion or contact Alumni Relations at alumni@mtu.edu or 906-487-2400.
Michigan Technological University is a public research university, home to more than 7,000 students from 54 countries. Founded in 1885, the University offers more than 120 undergraduate and graduate degree programs in science and technology, engineering, forestry, business and economics, health professions, humanities, mathematics, and social sciences. Our campus in Michigan's Upper Peninsula overlooks the Keweenaw Waterway and is just a few miles from Lake Superior.