Not Even the Sky's the Limit for Women in Engineering
By Monica Lester | Published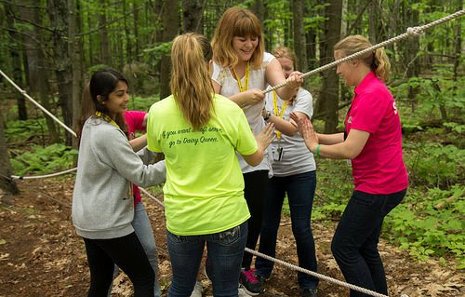 Lights floated into the night sky and across vast Lake Superior. Dreams, wishes and aspirations were released and ignited as participants and staff of Women in Engineering sent up lanterns as a symbol of their week at Michigan Technological University this summer. Cody Kangas, director of Michigan Tech's Center for Pre-College Outreach, rallied the girls around their dreams, aspirations and potentials as they let their lanterns fly. "It was inspiring," says Lucinda Hall, a sophomore at Millington High School in Millington, Mich. "[Cody] said, "If the sky is the limit, then why are there footprints on the moon?"
Women in Engineering (WIE) is a scholarship program, part of Michigan Tech Summer Youth Programs (SYP). Each year approximately 150 female high school students are selected to explore the possibilities in engineering.
This year, 141 young women attended, traveling from as far away as California, Alaska, Arizona, Texas and Arkansas. Three young women came from Bahrain, a small island country near the western shores of the Persian Gulf. Most came from Michigan, including six from the Detroit area.
They spent their WIE week rotating through nine sessions that focused on different engineering specialties such as civil engineering, materials engineering, mechanical engineering and more. Their learning was the hands-on kind—making ice cream with liquid nitrogen, for example.
They also spent all week working on two special projects, which got even more hands-on. Some were launching rockets, others creating prosthetics and much more. To tie it all together, the participants competed against each other in teams in four engineering challenges, such as who can move a ping pong ball across the room the fastest using only the supplies provided.
"My favorite thing [about WIE] was the different exposure to all the different fields," said Lindsay Fricano, a senior at Fraser High School in Fraser, Mich. "WIE has broadened my horizons to a point where I am strongly considering engineering as a career."
WIE has been around for 41 years, so many of this year's counselors were once in the participants' shoes. I am one of them—a third year student in scientific and technical communication at Tech and an activities counselor for Summer Youth Programs. WIE was one of the greatest experiences of my life. I'm so fortunate to have the opportunity to be on the other side of it as a counselor, and it's grown to so much since I participated in 2009.
WIE provides an experience that lasts a lifetime. The participants leave with at least one valuable lesson, whether it's convinced them to become an engineer, go to Michigan Tech, that college is an adventure they cannot miss or a combination of these.
Michigan Technological University is a public research university, home to more than 7,000 students from 54 countries. Founded in 1885, the University offers more than 120 undergraduate and graduate degree programs in science and technology, engineering, forestry, business and economics, health professions, humanities, mathematics, and social sciences. Our campus in Michigan's Upper Peninsula overlooks the Keweenaw Waterway and is just a few miles from Lake Superior.