Happy 25th Anniversary, Parade of Nations
By Jennifer Donovan | Published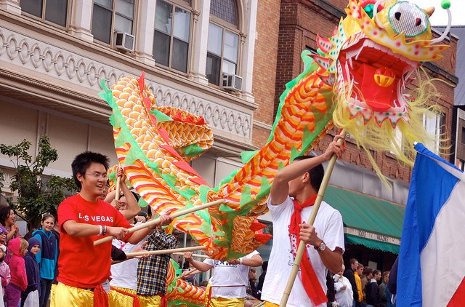 This September is the 25th anniversary of the Parade of Nations, the popular parade and multicultural festival that has become a harbinger of fall in the Copper Country. The theme—fittingly—is Around the World in 25 Years: A Silver Jubilee.
The parade itself and the multicultural festival that follows it in the Dee Stadium are scheduled for Saturday, Sept. 13. But those colorful events—and a dramatic Step Afrika performance that night at the Rozsa Center for the Performing Arts—are just the finale to a week of Parade of Nations Silver Jubilee celebration.
On Wednesday, Sept. 10, Parade of Nations founder Betty Chavis will present the history of the event at a free public program at the Portage Lake District Library. Several international students from Michigan Technological University will participate as well, talking about their countries, their cultures and their impressions of the Keweenaw.
On Friday, Sept. 12, at Michigan Tech, Arun Gandhi—the grandson of the legendary Mahatma Gandhi—will discuss the lessons he has learned from his grandfather. The program is free and open to the public.
International alumni of Michigan Tech have been invited to attend the first-ever international alumni homecoming. Finlandia University, Northern Michigan University and other regional institutions of higher learning have been asked to participate by inviting their international student community to attend as well.
Baraga and L'Anse Elementary Schools will each receive a $200 art grant for their students to make internationally themed posters. Their posters will be displayed at the Dee Stadium during the Multicultural Festival on Saturday, Sept. 13.
The headline act, Step Afrika, will stage a mini-performance at the Dee, followed by a full show including audience participation at the Rozsa Center Saturday night.
Parade of Nations is actively seeking university and community organizations to build floats for the Saturday morning parade. Prize money totaling $500 will be awarded for the winning floats. Parade of Nations is still taking applications for food and craft booths for the Multicultural Festival.
To register for a float, go to http://www.mtu.edu/international/events-programs/parade-nations/float.html
To sign up for a food or crafts booth, go to http://www.mtu.edu/international/events-programs/parade-nations/booth.html
For more information on Step Afrika, see http://www.stepafrika.org/
Michigan Technological University is a public research university, home to more than 7,000 students from 60 countries. Founded in 1885, the University offers more than 120 undergraduate and graduate degree programs in science and technology, engineering, forestry, business and economics, health professions, humanities, mathematics, and social sciences. Our campus in Michigan's Upper Peninsula overlooks the Keweenaw Waterway and is just a few miles from Lake Superior.