Michigan Tech's Shiyan Hu Receives NSF CAREER Award to Design Next-Generation Computer Chips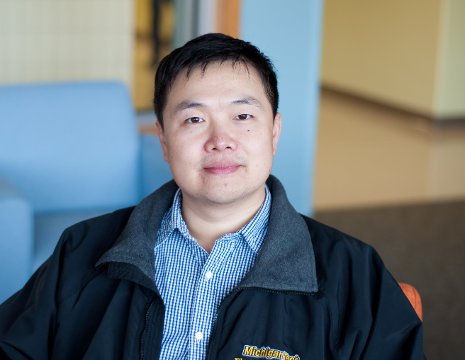 Michigan Tech's Shiyan Hu, who is designing speedier computer chips by replacing copper wires with graphene and carbon nanotubes. His work is supported by a National Science Foundation CAREER Award.
February 5, 2014—
A basic law of the road is that traffic can slow to a crawl when the highway narrows to one lane, creating bottlenecks and crabby drivers.
Integrated circuits have a similar problem. The narrower the copper wires connecting the transistors on a computer chip, the greater their resistance to electricity, and the more slowly they transmit information.
This phenomenon, called interconnect delay, puts the brakes on the processing speed of smartphones, tablets, PCs and all manner of computerized devices. That's because the wires in a typical computer chip are very narrow indeed: with a width of about 22 nanometers, a bundle of a thousand is no bigger than a human hair.
"Those wires have been getting thinner and thinner, because people want their chips to do more and more things, and for that you need more and more transistors, billions on a single chip," said Shiyan Hu, an assistant professor of electrical and computer engineering at Michigan Technological University. "But then the chip gets slower and slower . . . unless you do some magic."
Hu has something up his sleeve. With a $429,406 Faculty Early Career Development (CAREER) Award, he aims to design new chips that will put computing into the fast lane. The CAREER Award is the National Science Foundation's most prestigious award in support of junior faculty who exemplify the role of teacher-scholars.
Hu's target is the interconnect delay. To overcome it, he will be designing chips that replace those copper wires with carbon nanotubes or graphene.
"They are not regular matter," he says. "They have superconductivity and are much better materials for circuitry."
"This project has the potential to revolutionize the prevailing circuit design paradigm, which could eventually lead to a vast improvement in our quality of life," Hu said.
Hu came to Michigan Tech in 2008 and is the director of the Very-Large-Scale Integration (VLSI) Research Lab which focuses on the computer-aided design of VLSI circuits and smart home systems. He is a member of IEEE Technical Committee of the Building Automation, Control and Management and a senior member of IEEE. Hu received his PhD in Computer Engineering from Texas A&M University and was a visiting professor at IBM Research in Austin, Texas, during summer 2010. For more information, visit his faculty webpage.
Michigan Technological University (www.mtu.edu) is a leading public research university developing new technologies and preparing students to create the future for a prosperous and sustainable world. Michigan Tech offers more than 120 undergraduate and graduate degree programs in engineering; forest resources; computing; technology; business; economics; natural, physical and environmental sciences; arts; humanities; and social sciences.