Michigan Technological University Announces Creation of Pavlis Honors College
By Marcia Goodrich | Published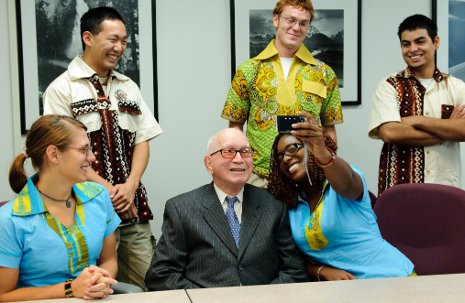 Recognizing Frank E. Pavlis as a longtime friend and advocate, Michigan Technological University announces the creation of the Pavlis Honors College.
The new College was approved Feb. 21 by the University's Board of Trustees. It will unify many of Michigan Tech's high-impact academic programs, including the Enterprise Program, the Pavlis Institute for Global Technological Leadership, the Honors Institute and the Summer Undergraduate Research Fellowship Program. In addition, the College will house the office of National and International Scholarships and Fellowships.
The Pavlis Honors College, the first named college at Michigan Tech, will provide a home for these signature programs in leadership, research and service. It will attract and support students who are motivated to pursue the highest standards of academic excellence.
"Over the course of the past 16 years, Michigan Tech has created some of the most exceptional academic offerings in the country. As their success caused them to grow, it became clear that we needed to bring these programs together," said Max Seel, provost and vice president for academic affairs. "Under the leadership of a new dean, the Pavlis Honors College will create synergies across campus that will expand these plus-factor programs and develop new ones that build upon the same tradition of quality."
Pavlis's support of these programs began in 2005, when he underwrote the Pavlis Institute for Global Technological Leadership. His aim was to give participating students an innovative entrepreneurial spirit; communications, technical and people skills; and a global vision. Since then, the Pavlis Institute has enrolled nearly 200 students. Their studies have taken them to Argentina, India, Malta and Ghana, where they have worked on projects ranging from establishing a mobile health clinic to addressing solid waste disposal problems. The Pavlis Honors College will provide a launch pad for even more students interested in developing a global outlook and a sustainable world.
"It has never been more important to understand the impact of globalization," Pavlis said. "Through the Honors College, Michigan Tech will establish itself as a leader in educating scientists, engineers and entrepreneurs who can be global leaders in the management of innovation."
The Pavlis Honors College is the latest in a lifetime of meaningful accomplishments. Pavlis earned his Bachelor of Science in Chemical Engineering at Michigan Tech in 1938, graduating at the top of his class. Subsequently, Pavlis earned a Master of Science in Chemical Engineering at the University of Michigan, and several years later participated in the Advanced Management Program offered by Harvard University. His education and hard work resulted in a highly successful career, which began in 1940 when he was one of the founders and the first employee of Air Products and Chemicals. Pavlis held many official positions and was a member of the Board of Directors for many years during his career at Air Products. Today Air Products is a Fortune 500 company with more than 20,000 employees, operates in over 50 countries and has annual sales in excess of $10 billion. Pavlis retired in 1980 as vice president of world trade and currently resides in Allentown, Pa. His wife, Ethel, passed away in 2002.
"Nine years ago, we modeled the Pavlis Institute on Frank's extraordinary experiences," said Michigan Tech President Glenn Mroz. "The skills he developed and seeks to pass on will be even more critical to today's students enrolled in the Honors College, given the competitive global economy and the needs of the developing world. We are grateful for his exceptional contributions and extremely proud that he is part of the Michigan Tech family."
A longtime supporter of the University, Pavlis is a member of Michigan Tech's McNair and Hubbell giving societies. In 2009, he received Michigan Tech's Distinguished Alumni Award.
Michigan Technological University is a public research university, home to more than 7,000 students from 54 countries. Founded in 1885, the University offers more than 120 undergraduate and graduate degree programs in science and technology, engineering, forestry, business and economics, health professions, humanities, mathematics, and social sciences. Our campus in Michigan's Upper Peninsula overlooks the Keweenaw Waterway and is just a few miles from Lake Superior.