International Students Learn Job-Seeking Skills
By Erika Vichcales | Published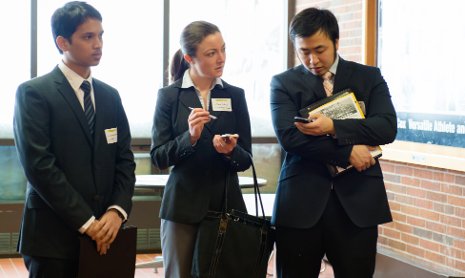 With Michigan Technological University's Career Fair just around the corner, many students are looking for resources to prepare themselves for potential job, co-op and internship opportunities. Landing a job can be particularly difficult for international students who are not familiar with American employers' expectations.
Recently, international students from Michigan Technological University, Finlandia University and Northern Michigan University got the chance to polish their job-seeking skills at the Michigan's Global Future Conference, sponsored by the Global Talent Retention Initiative of Michigan and by Michigan Tech's International Programs and Services and Career Services.
"The goal of this conference was to provide specialized sessions to help international students prepare for their US job search, connect them to international student-friendly employers in Michigan and encourage them to choose Michigan as their internship and post-graduation destination," said Darnisha Slade, assistant director of International Programs and Services.
The conference offered the students information on making their resumes stand out from the crowd, interviewing skills, searching for a job, practical training beyond their academic work, starting a business and selling themselves to employers. They also had an opportunity to network with business representatives and other professionals who attended the event.
The international students were particularly pleased with the employer panel, the tips and tricks on writing cover letters and resumes, and the opportunity to network with employers.
"The interactive session with the attorney for visa-related issues was the most beneficial session for me," said Candrika Abhang, a graduate student from India studying for her master's degree in mechanical engineering. "Normally we never get entire legal details of visa procedures from our peers, but this discussion gave us a detailed overview on types of visas, duration for its application, all the necessary documentation and legal procedures. It was indeed informative."
Many students were also impressed to learn what a great support system there is for international students and what resources are available for students in the international community.
"I never knew such a community exclusively built for international students has been initiated, and this was pleasantly surprising to know. It is a great platform for all of us to connect and look for jobs through GO (Global Opportunity) employers," said Abhang.
Michigan Technological University is a public research university, home to more than 7,000 students from 54 countries. Founded in 1885, the University offers more than 120 undergraduate and graduate degree programs in science and technology, engineering, forestry, business and economics, health professions, humanities, mathematics, and social sciences. Our campus in Michigan's Upper Peninsula overlooks the Keweenaw Waterway and is just a few miles from Lake Superior.