Summer Reading 2014: Neil White and the Outcasts
By Kevin Hodur | Published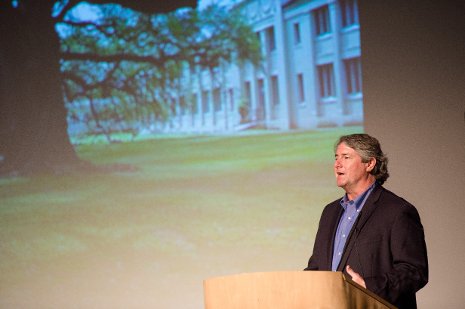 He called it "camp".
That's what Neil White told his children when he was incarcerated for check-kiting in the early 1990s. So began a most unlikely journey that culminated in his writing In the Sanctuary of Outcasts, this year's selection for the Reading as Inquiry program at Michigan Tech.
Camp/prison wound up being a place of discovery and enlightenment for White. Sentenced to serve his time in Carville, Louisiana, he came to a place that serves as the last facility in the US caring for those with Hansen's disease.
Pejoratively, people call them lepers.
By the end of his sentence, and having befriended a bewildering variety of patients, inmates, and others, White recalls one last conversation with Ella, a Hansen's patient who had been at Carville more than 60 years. He was worried: he didn't think he had changed, as he'd been told throughout the process he needed to do.
"You is what you is," she replied. Then she pointed out to the courtyard, where the edges of the flower beds were lined with upside-down cola bottles. When the local distributor send beverages to the Carville facility, he didn't want them back, so they built up over the years. "CoCola bottle still a CoCola bottle," Ella told White. "Just found 'em a new purpose."
White was on Michigan Tech's campus this week, addressing the first-year class about purpose as they too orient themselves to completely new surroundings. With the size of the incoming class, there were two presentations: at 9 a.m. and 1 p.m. at the Rozsa Center for Performing Arts. Both were open to the public as well as the first-year students.
White began with some further details about his time in Carville, including a slideshow, then opened the floor to questions, stressing that everything was on the table. "The harder the question, the better," he said. "Those are the ones where you get the best answers."
As the house lights came up, a few hands were tentatively in the air. Then a few more. By the time the discussion was nearly over, more than a hundred hands were up. Many of the questions surrounded whether or not White had really changed.
He explained that he knew better now who he was and what parts of himself he needed to keep in check, relating the story of a phone message he got from Paramount. Breathlessly dialing the number back, White was imagining the possibilities, the films that the studio has put out, handling complexity and emotion so well. Finally, after fifteen minutes, he got through. "Oh, Mr White!" the voice on the other end said. "We wanted to see if you needed anything."
It was Paramount, the janitorial supply company.
The students chuckled, many knowingly, as they face their own uncertainty and expectations this first week of college. They're trying to define themselves, to come up with their identities. Like White, they're trying to start, but by the title of their Summer Reading as Inquiry book. one," he said. "You can call yourselves the Outcasts."
Reading as Inquiry has had a great deal of support, from the faculty, staff, and administration at Tech, to the surrounding community and beyond. Johnson mentioned one parent whose children have since graduated, who still comes up for the program every year from Madison, Wis. Other fans include dedicated supporters of the University like Dave and Elsa Brule of Iron Mountain.
After White's presentation, students engaged in small-group discussions about the book. One student shook his head. "Can you imagine," he said, "being someplace so different?" The topic of hobbies came up as these students continued introducing who they are. "I love anything outside," he said. "I love to camp."
Michigan Technological University is a public research university, home to more than 7,000 students from 60 countries. Founded in 1885, the University offers more than 120 undergraduate and graduate degree programs in science and technology, engineering, forestry, business and economics, health professions, humanities, mathematics, and social sciences. Our campus in Michigan's Upper Peninsula overlooks the Keweenaw Waterway and is just a few miles from Lake Superior.