Michigan Tech Scores High in Money Magazine Rankings
By Jennifer Donovan | Published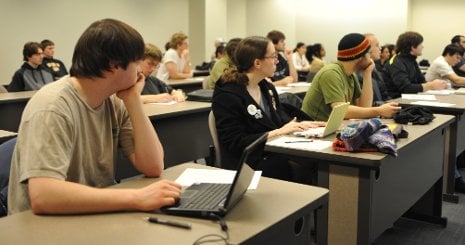 Money Magazine has ranked Michigan Technological University second highest in the state, based on graduation rates, degree costs and return on investment. Michigan Tech also ranked 33rd in the nation among public universities.
The magazine ranked 665 of the nation's more than 1,500 public and private colleges and universities. Each of the qualifying schools was ranked on affordability, quality of education and post-graduation outcomes to determine which schools provided the best value and highest-quality education.
Sixteen Michigan colleges and universities made the cut, eight of them public institutions. The University of Michigan at Ann Arbor was ranked 22nd in the nation. Michigan Tech ranked 82nd, outranking Carnegie Mellon, the Illinois Institute of Technology and the University of Chicago.
Money magazine's goal was to produce an objective ranking, based on 17 measurable factors in three categories: quality of education, affordability and outcomes. Quality of education included six-year graduation rates, student-to-faculty ratio and a "value-added" graduation rate that reflects the difference between the actual rate and an expected rate based on students' academic and economic backgrounds.
Affordability includes borrowing by student and their families, student loan default rates and estimates of the average cost of a degree. Outcomes includes measures of early and mid-career earnings, based on data from Payscale.com.
"It's really great to see that the efforts of the people of Michigan Tech are accurately recognized when objective measures are used to evaluate the quality and cost of the education we provide," said President Glenn Mroz. "It gets to the heart of the issue, and that's value. I think everyone here as well as our alumni and the community can be proud of what they've done."
Michigan Technological University is a public research university, home to more than 7,000 students from 54 countries. Founded in 1885, the University offers more than 120 undergraduate and graduate degree programs in science and technology, engineering, forestry, business and economics, health professions, humanities, mathematics, and social sciences. Our campus in Michigan's Upper Peninsula overlooks the Keweenaw Waterway and is just a few miles from Lake Superior.