Mahatma Gandhi's Grandson, Step Afrika! Dance Troupe Coming to Parade of Nations
By Jennifer Donovan | Published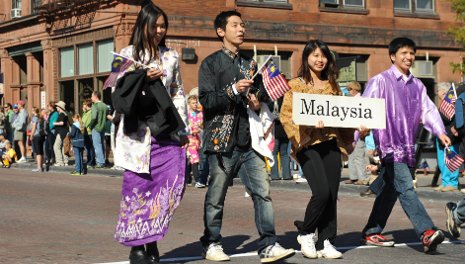 Parade of Nations is coming to the Keweenaw Sept. 13—and it's much more than a parade. An entire week of festivities marks the 25th anniversary of the parade and multicultural festival. This year's theme is Around the World in 25 Years: A Silver Jubilee.
Arun Gandhi, grandson of the legendary Mahatma Gandhi, will give a public talk about the lessons he learned from his grandfather, at 7:30 p.m. Friday, Sept. 12 at the Rozsa Center.
Step Afrika!, a percussion dance troupe from Washington, DC, will involve audiences in their heart-pounding performances. A free mini-performance is scheduled for the Multicultural Festival at the Dee Saturday afternoon, and a full performance will take place at the Rozsa Center for the Performing Arts Saturday evening.
Food from more than a dozen countries will be on the lunch menu at the Multicultural Festival after the parade, at Dee Stadium on Saturday, Sept. 13.
A Parade of Nations exhibit will open at the Carnegie Museum at 6 p.m. Tuesday, Sept. 9.
Betty Chavis, founder of Parade of Nations, will share her personal recollections of the growth of the event, at a free public program at the Portage Lake District Library at 7 p.m. Wednesday, Sept. 10. International students from Michigan Tech will also talk about their home countries and cultures.
The parade itself, featuring floats and flags of many countries—and lots of candy—will start in Hancock at 11 a.m. Saturday, Sept. 13, cross the Portage Lift Bridge and end up at the Dee Stadium in Houghton, where the Multicultural Festival will begin at noon.
A Youth Choir from across the Copper Country will perform a special song at the Parade of Nations Multicultural Festival.
Children's art from Baraga and L'Anse Elementary Schools will be on display at the Dee.
International student athletes from Finlandia University and Michigan Tech will share their experiences, insights and future plans, at 7 p.m. Monday, Sept. 8 at the Finnish American Heritage Center in Hancock.
Parade of Nations is still seeking university and community organizations to build floats for the Saturday morning parade. Prize money totaling $500 will be awarded for the winning floats. Judges for the floats will be Shivam Bharti from Michigan Tech; Jason Sullivan from Finlandia University; and Eric Waara, city manager of Houghton.
To register for a float, go to http://www.mtu.edu/international/events-programs/parade-nations/float.html
To sign up for a food or crafts booth, go to http://www.mtu.edu/international/events-programs/parade-
Michigan Technological University is a public research university, home to more than 7,000 students from 54 countries. Founded in 1885, the University offers more than 120 undergraduate and graduate degree programs in science and technology, engineering, forestry, business and economics, health professions, humanities, mathematics, and social sciences. Our campus in Michigan's Upper Peninsula overlooks the Keweenaw Waterway and is just a few miles from Lake Superior.