John and Cathi Drake Create Endowed Chair in Mechanical Engineering–Engineering Mechanics
By Marcia Goodrich | Published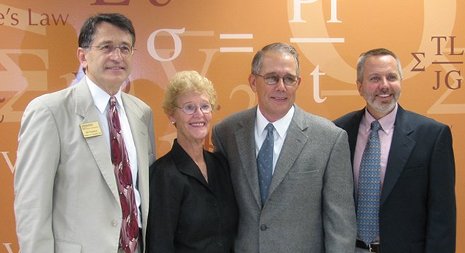 John '64 '69 and Cathi Drake have expanded their support for the endowed professorship that bears their name. With an additional $1 million commitment, they have increased funding for the position to $2 million, creating the latest endowed chair in Michigan Technological University's Department of Mechanical Engineering–Engineering Mechanics.
Gordon Parker, who was appointed to the Drakes' professorship when it was established in 2007, will continue to hold the new John and Cathi Drake Endowed Chair in Mechanical Engineering.
The Drakes' annual gifts have already allowed Parker to support students and explore new avenues of research that otherwise might not receive funding from industry or government agencies.
"John and Cathi have been very pleased with Gordon's productivity and effectiveness under their sponsorship, and as a result they decided to increase their commitment," said William Predebon, chair of the department. "The funds are seed money; they let him engage in high-risk research that Gordon can eventually leverage into larger funding opportunities."
John Drake earned a BS in Mechanical Engineering at Michigan Tech in 1964 followed by an MS in Business Administration in 1969. He and Cathi founded Drake Manufacturing Services in 1972. John, who retired as its president in 2007, continues to receive licensing revenues from one of his innovations. "It's something I dreamed up and made work: a ball nut used in power steering in pickup trucks and SUVs," he explains. "It's now being used in cars in Europe and even to make power brakes."
This success helped to drive their latest donation. "We had not made such a big gift before we established the professorship, and we've been feeling our way through, making sure the investment is well spent. And it has been," said Drake. "Gordon is just wonderful. He's grown immensely during these past seven years, and we've done well in our own right. So we thought we'd step up and make him a full chair holder."
In addition, the Drakes view their gift as a vote of confidence in Michigan Tech. "We've become convinced not only of Tech's applying our money to the purpose intended, but also of its fundraising efficiency. We, like many donors, come from business, and we hate to waste money. Academia is not usually known for efficiency, but we have been very impressed with Tech in this area."
For his part, Parker can't say enough about the value of the Drakes' support.
"It's been incredible," he says. "Unless you are immersed in academia, you probably don't know how much a faculty member's career can revolve around the search for money. The funds from the professorship have allowed me to support student research assistants and do some really interesting exploratory work."
The additional support that will come from the endowed chair can only expand those benefits. "I'd like to express my deep thanks to the Drakes, not only John and Cathi but the whole family. It's a humbling and profound experience to have their name next to my door."
The Drakes have also made two recent gifts to honor their daughters.
"Through a generous gift in honor of their noted scientist daughter, John and Cathi took a leadership role in supporting the Great Lakes Research Center by naming the Invasive Species Lab in honor of Dr. Lisa Drake," said center director Guy Meadows, who holds the Robbins Chair in Sustainable Marine Engineering. "Their support has been key to our efforts to track and halt invasive species in the Great Lakes."
The Karen S. Richardson Endowed Scholarship, established in July, will support students entering the School of Business and Economics. The first scholarship is to be awarded this fall to an entering freshman, preferably from the Upper Peninsula. "We're very appreciative of the Drakes' generosity and their support of our students," said Dean Eugene Klippel. "We're particularly pleased that they chose to honor their daughter in this way, and we will make every effort to be excellent stewards of their gift."
Michigan Technological University is a public research university, home to more than 7,000 students from 60 countries. Founded in 1885, the University offers more than 120 undergraduate and graduate degree programs in science and technology, engineering, forestry, business and economics, health professions, humanities, mathematics, and social sciences. Our campus in Michigan's Upper Peninsula overlooks the Keweenaw Waterway and is just a few miles from Lake Superior.