Up in the Air: Bounce-o-rama Raises Funds, Spirits
By Kevin Hodur | Published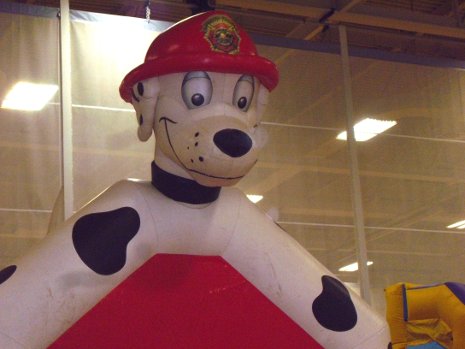 The hurdles from track and field practice are tucked away in one corner, that side of the room mostly dark. The track team's last meet is today, on the road. The tennis team has conference playoffs still to go, but otherwise the sports season for 2013–14 has wound down. The scoreboards are dark.
But the parking lot is full at Michigan Technological University's Student Development Complex. It's 12.30 on a Sunday afternoon, and half of the Multipurpose Room has turned into a riot of primary colors in plush, rubberized shapes. Many of the attractions have the familiar shape of bouncy castles, famous in suburban backyards across the country. One with a giant Dalmatian head wearing a fire helmet is lording over affairs. The rest look like drills for preseason football, with obstacles and slides and the like.
It's Bounce-o-rama, the second year the Student-Athlete Advisory Council (SAAC) has hosted this event as a fundraiser for the Make-a-Wish Foundation. And it's hard to keep up with everything going on, with kids bounding around the room at full speed.
The SAAC has a lot of responsibilities in making this all happen. "We handle the schedule, volunteers, raffle, face-painting and a bunch of other stuff," says Jordanna Kero, SAAC president. "All of these student-athletes really pull together to do a lot."
It's even closer to home than that, though. A mother is being dragged in by her two kids from a slide to something that looks like an enormous recliner with Velcro on the back, commenting to them, "did you know this is for Madison?"
Madison is from Hancock, and she has nemaline rod myopathy, a condition that severely inhibits muscle control. This is the end of a year-long fundraising effort for Madison. Kero, who is graduating in a couple of weeks, had a moment to reflect on the effort. "It feels really good to be able to help. Really good. We got to meet with her a couple of times, including at one of our hockey games. She's really awesome."
Each of the dozen or so inflatable funhouses at Bounce-o-rama is powered by at least one high-intensity fan, the noise from their collective din drowning out the kid's music blaring from two speakers in one corner. The fan blades amplify the energy from the kids, reflected in smiles and squeals and heads bouncing up and down.
A girl, no older than three, is kicking a soccer ball with a member of the women's soccer team. Her shirt says "Play Hard, Win Hard." The 3-year old's shirt, that is.
The recliner-looking units with the Velcro have matching suits the kids put on. Then they try to jump up and stick themselves to the high back. Most are struggling to get high enough up in the air. A football player has it covered, though, scooping the kids up and chucking them at the Velcro. Suspended five or so feet in the air, they can't stop giggling.
In the center of these air toys is a collection of student-athletes playing with kids, like the aforementioned soccer exchange. A hockey goal, tennis net and a basketball hoop are in close proximity. A tennis ball gets away, but it hops over the hockey players' stick. Meanwhile, the women's soccer player is trying to get another kid to play. "Go ahead and kick it!" The kid stares for a second, then picks the ball up and shoots a lay-up.
"Ah, close enough."
The parents form a kind of ring around the facility, staying back out of the way of the bouncy toys on the perimeter, but remaining clear of the projectiles flying around the center.
"The slide was fun," one parent comments. "Having a kid is a great excuse to getting to play a bit yourself."
Kero says Madison's wish is to go to Disney World. An average event from Make-a-Wish costs around $5,000, and the SAAC is well on the way to hitting that target.
Kero muses. "It was her birthday a few days ago, too."
Outside, a woman is being dragged by no fewer than four kids. A couple of them are jumping up and down, clearly excited. One is skipping ahead of them, then turns around. "Let's GO!" She turns back and heads even faster to the front door.
Michigan Technological University is a public research university, home to more than 7,000 students from 54 countries. Founded in 1885, the University offers more than 120 undergraduate and graduate degree programs in science and technology, engineering, forestry, business and economics, health professions, humanities, mathematics, and social sciences. Our campus in Michigan's Upper Peninsula overlooks the Keweenaw Waterway and is just a few miles from Lake Superior.