Tech's Tribal Technical Assistance Program Shares Expert Know-how with Local Tribes
By Danny Messinger | Published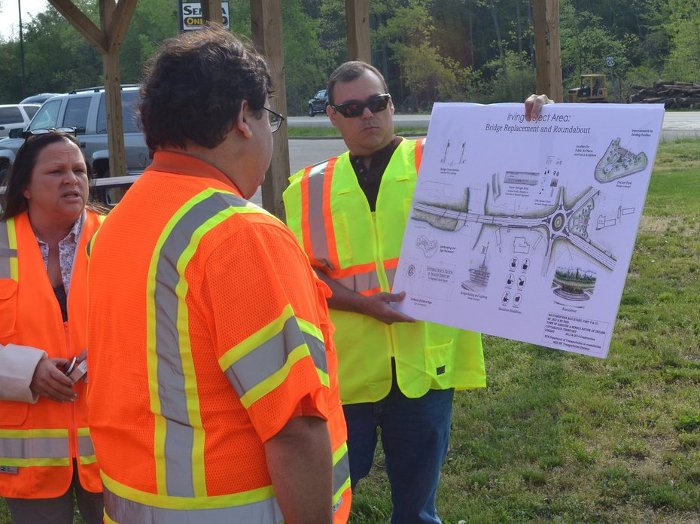 The expertise of Michigan Technological University faculty and staff reaches far beyond the edge of campus.
The Tribal Technical Assistance Program (TTAP)--a federally funded program with regional headquarters in the heart of Michigan Tech's campus--helps American Indian communities ensure the safety and longevity of their transportation infrastructure.
Working out of Dillman Hall, John Velat, TTAP director, oversees the largest of the nation's seven regions—serving more than 60 federally recognized tribes located in states along the Mississippi River and eastward to the Atlantic Ocean.
The TTAP team reaches out to the region's tribes, but Velat says tribes often come to them seeking help with specific technical transportation issues. Tribes will frequently call the TTAP office requesting guidance about transportation issues and training on specialized hardware or software or for help with grant applications to fund future projects.
When tribes need help with transportation issues, Velat says he can pull from a vast cadre of experts on Tech's campus.
"We'll typically approach issues from multiple angles," Velat explains. "We look at maintenance, enforcement, education, administration, engineering and all other areas that are involved in transportation."
Maintenance involves road drainage and snow plowing; enforcement includes police presence; education encompasses public service announcements and driver education courses.
While most people would assume engineering is where Tech has most to offer, behavioral factors, workforce development and administration are other areas where Tech shines, says Velat. "These are some of the lowest-cost, most-effective and fastest-deployed improvements we can make," he says.
Analyzing and modifying roadway banking, shoulders, ditches and curve alignment can have drastic impacts on overall road safety—not only from an engineering perspective but also in affecting driver behavior.
For example, the Bay Mills Indian Community, located in Michigan's Upper Peninsula about a 30-minute drive from Sault St. Marie, called on TTAP's expertise for a recent road safety audit. The community identified a problematic stretch of road and sought help with the next steps.
"The stretch has always seemed to be a problem," says Dan Tadgerson, assistant to the chairman at Bay Mills. "Every winter storm, it seemed like there was at least one car in the ditch, and one morning I counted five. It is obviously a problem."
So Bay Mills officials reached out to TTAP.
"We have no engineers on staff," says Tadgerson. "In about eight months, with TTAP's help, we did a traffic count, did an analysis on different options, and we've landed on a final set of plans and specs. They're ready to go out for bids when we secure funding, which is our next step."
Most funding options require an official safety audit first, which was completed with TTAP's assistance.
"TTAP did a great job with the audit, and we are hoping the project will get funded and we can move onto other transportation issues," says Tadgerson.
Safety, of course, is the tribes' primary concern, but there are a handful of ripple-effect benefits to improving transportation on the reservation. When roadways are improved, commerce flourishes. Visitors can access businesses and casinos. And pedestrians can easily get from place to place on foot.
Velat says providing an outsider's perspective to tribes' transportation problems can be invaluable.
"Making personal connections with tribes is critical," says Velat. "At TTAP, we have a long history of working with tribes, but the personal connections are what help us connect the right people in tribal communities with the right people at Michigan Tech and our federal and state partners."
And with a bevy of staff and faculty able to assist, Velat says his job is a delight.
"We have the skills in-house to help tribes with a variety of issues," he says. "We're selling Tech's expertise in transportation. Where we work, being right on campus, we're breathing the same air as Tech professors and experts. Why not share that with local tribes?"
Michigan Technological University is a public research university, home to more than 7,000 students from 54 countries. Founded in 1885, the University offers more than 120 undergraduate and graduate degree programs in science and technology, engineering, forestry, business and economics, health professions, humanities, mathematics, and social sciences. Our campus in Michigan's Upper Peninsula overlooks the Keweenaw Waterway and is just a few miles from Lake Superior.