Tech Students Design a Lodge for the Tech Trails
By Marcia Goodrich | Published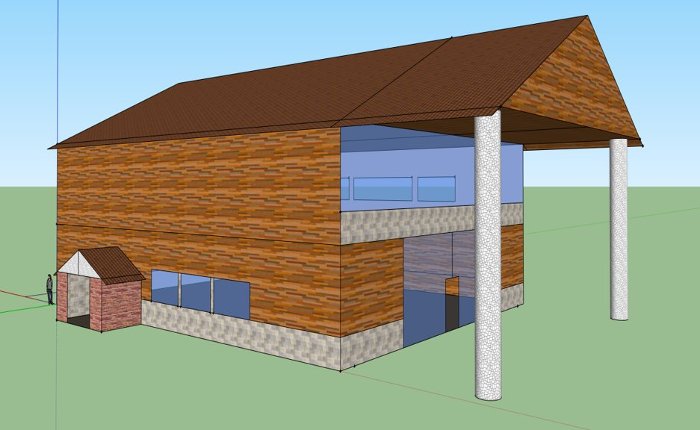 The Michigan Tech Trails offer top-notch recreation to runners, bikers and Nordic skiers from all over the nation. Something they don't offer is flush toilets, not to mention the other cozy après ski amenities found in the typical resort.
Wouldn't it be nice if we had an actual lodge? thought Jared Johnson, who leads Michigan Tech's Outdoor Adventure Program. It could benefit the trails' myriad users, as well as serve as a headquarters for the Outdoor Adventure Program. Tyler Losinski, then a student worker, took the idea and ran with it, developing a first concept of the trailhead lodge and sharing it with his co-workers.
One of those workers, civil engineering major and trail rat Alice Flanders, recognized the proposed lodge as a great opportunity for a real-world Senior Design project. And she suggested that the civil engineering students take it on.
Thus began one of the most ambitious Senior Design projects co-instructors Bill Leder and Bill Baxendall have ever led. For the last semester, four teams of civil engineering students—one led by Flanders—have each been drawing up plans for a new lodge, which would be located at the entrance to the Tech Trails. The complex would also house the Outdoor Adventure Program, which now lives in a converted home at 207 East Street.
There are no concrete plans to build a new complex yet. But Johnson, who is the client for the project, along with Athletic Director Suzanne Sanregret, is enthusiastic at the prospect.
"We are all for it," he said. "We need a facility to match the caliber of the trails." Over the last decade, the Tech Trails have become a recreational mecca and magnet for top-level athletic contests, up to and including the US National Cross-Country Skiing Championships, set for 2015 and 2016.
The students' four designs vary in size and scope, with cost estimates ranging from $2.6 million to $3.8 million. Their enclosed floor space ranges in size from 12,700 to nearly 30,000 square feet. In addition, all provide office space and a kitchen for the Outdoor Adventure Program and locker room facilities. And yes, public restrooms.
The plans also incorporate the cost of bringing in utilities, paved parking and driveway, a separate building for Outdoor Adventure Program rentals and more.
"We need space for varsity athletics, ski and running races and competitions, outdoor student organizations, the Outdoor Adventure and Wellness Programs, special events like the national races, Muck Run, Bigfoot Snowshoe, etc., and general community use as well," Johnson said. "It is important for folks to know that this is a facility that would be open to all trail users: skiers, bikers, runners, walkers."
The instructors were pleased with the students' work. "It's so gratifying to see them come into Senior Design with basic skills from the classroom and then own a real-world project from beginning to end," said Leder. Said Baxendall, "It's been an extremely enjoyable experience."
"I'm very impressed with what the students have done," said Johnson. "This has been a great opportunity to partner with the academic side."
Flanders, who runs, bikes and skis the trails, is thrilled. "It's amazing to be a part of the preliminary design concepts," she said. "And it would be incredible if they actually build a lodge and use some of our ideas. If I could, I'd do it again."
The four teams and their members are TDWS Consulting, with project manager Kelcey Traynoff, Allyssa Demers, Eric Simmons and Kevin Wilks; BBY&B, with project manager Ben Bryant, Jared Belovich, Alex Bomstad and Kaili Yue; Team NRAM Rod, with project manager Nicholas Lanoue, Ryan Anderson, Michael LaFerve and Adam Suokas; I.S.I.I., with project manager Alice Flanders, Evan Kryzske, Wen Tao Liu and Casey Holvenstot.
Michigan Technological University is a public research university, home to more than 7,000 students from 54 countries. Founded in 1885, the University offers more than 120 undergraduate and graduate degree programs in science and technology, engineering, forestry, business and economics, health professions, humanities, mathematics, and social sciences. Our campus in Michigan's Upper Peninsula overlooks the Keweenaw Waterway and is just a few miles from Lake Superior.