Michigan Tech Mind Trekkers, Dow Chemical Bring the Wonders of Science to Middle, High Schoolers at Michigan Community Colleges
By Jennifer Donovan | Published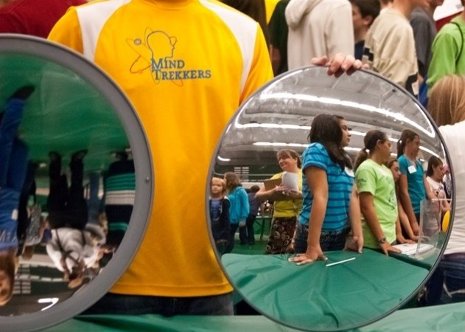 Can you walk on water? Make ice cream in 60 seconds? Float a magnet in mid-air with no strings attached?
Thanks to AT&T Michigan and the Michigan Technological University Mind Trekkers, middle and high school students in three Michigan communities will have the chance to try their hand at these and other science "magic" at science and engineering festivals at local community colleges.
The festivals are scheduled for Monday, May 5 at West Shore Community College in Scottville; Tuesday, May 6 at Mid Michigan Community College in Harrison; and Wednesday, May 7 at Alpena Community College in Alpena. All three will feature the Michigan Tech Mind Trekkers.
Mind Trekkers is a travelling science show featuring dozens of hands-on experiences designed to reveal the science behind what looks like magic. Student and staff volunteers put on the show, which coordinator Tom Maynard calls "a science carnival."
"AT&T is proud to partner with Michigan Tech to bring technology and engineering to life for high school students across the state," said AT&T Michigan President Jim Murray. "Today's students will be bringing the world tomorrow's innovations and new technologies. It is exciting for everyone at AT&T to play a role opening these kinds of doors for Michigan students."
Mind Trekkers piloted its STEM road shows with support from AT& in May 2011, conducting events at the Traverse City Career and Tech Center, Lake Superior State University, and at Bay College – Escanaba and Bay College – Iron Mountain. The enthusiastic response from students and teachers, a majority from rural communities, helped launch Mind Trekkers.
Since then, the Michigan Tech Mind Trekkers have taken their science road show to festivals and expos all over the US. Hundreds of thousands of students, parents and teachers have participated. On April 25-27, they are appearing as a featured partner with Dow Chemical at the huge USA Science & Engineering Festival and Expo in Washington, DC.
Michigan Technological University is a public research university, home to more than 7,000 students from 54 countries. Founded in 1885, the University offers more than 120 undergraduate and graduate degree programs in science and technology, engineering, forestry, business and economics, health professions, humanities, mathematics, and social sciences. Our campus in Michigan's Upper Peninsula overlooks the Keweenaw Waterway and is just a few miles from Lake Superior.