Michigan Tech Facilities Management Director Testifies in DC for Equal Pay Act
By Jennifer Donovan | Published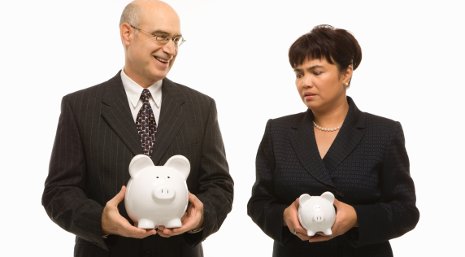 Today is Equal Pay Day. It's a day that symbolizes how far into 2014 women have to work to earn what a man doing the same job earned during 2013. Equal Pay Day was established in 1996 by the National Committee on Pay Equity (NCPE) as a public awareness event to illustrate the gap between men's and women's wages
Michigan Tech's Kerri Sleeman, executive director of facilities management, took tales of pay inequity and Michigan Tech's efforts to right those wrongs to Washington, D.C., last week. She testified before the US Senate Health, Education, Labor and Pensions Committee about the Paycheck Fairness Act now being considered by the Senate.
Sleeman described working at a Michigan engineering company where she managed several male employees, all of whom she learned were paid more than she was. "I asked my supervisor about it, and he said that the men I supervised were the breadwinners for their wives and children. The company paid those men more than me not because of their qualifications, experience, performance or productivity, but because they were men, and I was a woman.
"You can't fight back when you're not privy to the rules, and you can't negotiate your way around such discrimination.," Sleeman told the Senate committee. "What happened to me is happening across the country, and it's why we need the Senate to pass the Paycheck Fairness Act."

After her testimony, Sleeman spoke at a press conference hosted by Maryland Senator Barbara Mikulski. She was interviewed by NBC news and quoted in a number of editorial pieces released by the American Association of University Women, of which Sleeman is a member.
"After experiencing outright wage discrimination early in my career, I began working with the WAGE Project and AAUW to help women learn better negotiation techniques," Sleeman said. "Unfortunately, negotiation is often times not enough. Unintentional bias often contributes to salary differentials, and that is something that current law has yet to adequately address. The Paycheck Fairness Act (S. 84), currently being discussed by the Senate, would go along way towards helping to end the opportunity for bias in pay."
She went on to say: "I am happy to work at an organization like Michigan Tech, that does so much to discourage bias and encourage fair hiring and wage practices, from the publishing of wages which helps everyone negotiate better, to the resources Human Resources and Institutional Equity offer, to search committee training and legal questioning guidelines."
Theresa Coleman-Kaiser agreed. "Now that over 50 years have passed since the 1963 Equal Pay Act, I am pleased to see some progress nationally in narrowing the wage gap, but there is still significant work to be done," said Coleman-Kaiser, assistant vice president for administration. "I am thankful to be working at Michigan Tech ,where I feel gender equity in wages is a practice."
President Barack Obama announced yesterday that he will sign two executive orders ion equal pay for women. Both orders are similar to provisions of the Paycheck Fairness Act, which twice before has failed to pass.
One executive order would prohibit federal contractors from retaliating against employees who share salary information. The second instructs the US Department of Labor to create new regulations requiring federal contractors to provide wage data to the government, in hopes that will hold them more accountable for salary differences based on gender or race. The Paycheck Fairness Act would extend the executive order requirements of federal contractors to most other employers.
Michigan Technological University is a public research university, home to more than 7,000 students from 60 countries. Founded in 1885, the University offers more than 120 undergraduate and graduate degree programs in science and technology, engineering, forestry, business and economics, health professions, humanities, mathematics, and social sciences. Our campus in Michigan's Upper Peninsula overlooks the Keweenaw Waterway and is just a few miles from Lake Superior.