APMP Gold Team Rises to the Occasions, Champs Times Two
By Jennifer Donovan | Published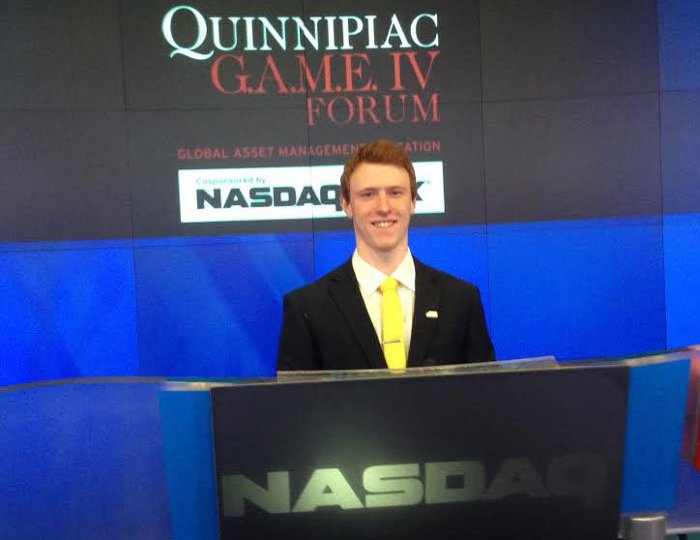 An Applied Portfolio Management Program team from Michigan Technological University has won two global investment competitions.
The Gold Team won the value category in the Global Asset Management Education (GAME) Forum IV, hosted by Quinnipiac University in New York City. They also won the 14th Annual Redefining Investment Strategy Education (RISE) competition in the same category with the same portfolio a week later at the University of Dayton .
At GAME, the team also got to participate in closing NASDAQ while there, where they were part of some 1,000 participants from 130 universities and 44 states.
Their results were impressive, according to Dean Johnson, who is Jim and Delores Trethewey Professor in the School of Business and Economics and the team's advisor.
"For the calendar year 2013, they showed a return of 29.66 percent," Johnson said. "In the value category, they are also judged on standard deviation, or risk, and theirs was a very low 1.7 percent."
That means for one year, the team's returns were very steady. In fact they only had one negative month. They grew their portfolio from $397,000 to $515,000.
Their best-performing stock?
"Jazz Pharmaceutical," said Brett Ludwig, member of the team. "It increased about 140 percent over the year." Other team members were Claire Johnson, Heath Johnson, Judy Isaacson and Nathan Sturos.
Overall, the team invested in twenty stocks and three bonds, employing a value approach in which they focus more on the "here and now, not the future growth," according to team member Judy Isaacson.
The team uses different criteria when picking stocks, including price-to-earning, price-to-book value and how many analysts are following it.
"We choose the ones that aren't being looked at a lot, so we'll have an advantage over others who might choose those more-popular ones," Claire Johnson said.
They picked well, having no losing stocks over the year.
"We're glad we didn't sell Jazz in November, like we were thinking of doing," said Nathan Sturos.
In New York, the team also got to hear some heavy-hitting keynote speakers from the financial world: Guy Adamani and Joseph Terranova from CNBC's Fast Money, Abby Joseph Cohen from Goldman Sachs and Tom Keene from Bloomberg News.
Ludwig, Sturos and Isaacson also ventured to Dayton with the same portfolio, for the annual RISE investment competition.
One major difference compared to other student funds, according to Dean Johnson, is that the APMP teams control all aspects of the money that they have grown, from investment philosophy to asset allocation to asset selection.
"Our students have complete control," he said. "The Advisory Board hires them, and they make all the decisions, instead of just pitching a stock to experts."
And the winning moments?
"There's something about sitting there and being tired at 5:30 p.m., and we are not even on some people's maps, and they announce our name. We are high-fiving each other, and everyone is looking around to see who we are," said Johnson.
Michigan Technological University is a public research university, home to more than 7,000 students from 54 countries. Founded in 1885, the University offers more than 120 undergraduate and graduate degree programs in science and technology, engineering, forestry, business and economics, health professions, humanities, mathematics, and social sciences. Our campus in Michigan's Upper Peninsula overlooks the Keweenaw Waterway and is just a few miles from Lake Superior.