Undergraduate Ranking Rises Among Public Universities; Michigan Tech Also Named Military Friendly School
By Jennifer Donovan | Published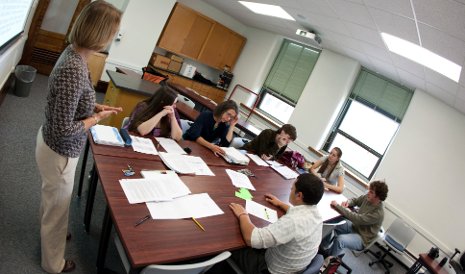 Michigan Technological University's undergraduate programs in all disciplines rose in a ranking of public national universities, coming in at 57th in the nation, according to the 2014 US News & World Report Best Colleges rankings released today. Last year, Michigan Tech ranked 58th among public national universities. Tech also moved up in the overall rankings of all universities--public and private--to 117th this year from 120th last year.
"This is movement in the right direction," said President Glenn Mroz. "We know we provide an outstanding undergraduate education, and employers do as well. But it's encouraging that our peers and higher education leaders recognize that too."
Michigan Tech's undergraduate engineering program ranked 65th in the nation among engineering schools that offer doctorates.
"Michigan Tech is and continues to be a school that emphasizes engineering and applied science, producing well educated, highly skilled graduates who are in great demand by industry," said Wayne Pennington, interim dean of the College of Engineering. "It is gratifying to see that excellence recognized."
Tech also was named an "A-Plus School for B Students" in the latest US News undergraduate rankings. The category lists top-ranked universities that consistently consider and admit promising students whose high school grade point average is less than an A.
Today, Michigan Tech was also named a Military Friendly School, an honor earned by only 20 percent of the colleges and universities in the country. The Military Friendly School designation recognizes best practices in recruitment and retention of students with military experience.
"Inclusion on the 2014 list of Military Friendly Schools® shows Michigan Tech's commitment to providing a supportive environment for military students," said Sean Collins, a 9-year Navy veteran and vice president at Victory Media—which helps military personnel transitioning to civilian life and issues the Military Friendly Schools list. "The need for education is growing and our mission is to provide the military community with transparent, world-class resources to assist in their search for schools."
Since 2008, the families of people serving full-time in the military have been eligible for in-state tuition at Michigan Tech, no matter where they may live. Tech also participates in the National Service Graduate Fellowship—an assistance program for veterans who are graduate students. The University has a student veterans organization that helps veterans transition from military to civilian life, promotes camaraderie, and encourages community outreach, particularly with other veterans.
"We are proud to welcome veterans and the families of persons in active military service," said John Lehman, associate vice president for enrollment, marketing and communications. "We are known for educating smart, motivated, and adventurous students—qualities best embodied by and most associated with students connected to the US military."
During Orientation at Tech, veterans learn about GI benefits, mental health providers and the veterans' hospital in Iron Mountain. The University alerts faculty to watch for PTSD (post traumatic stress disorder), and—in a symbolic initiative—veterans wear red, white and blue honor cords at graduation.
Michigan Technological University is a public research university, home to more than 7,000 students from 54 countries. Founded in 1885, the University offers more than 120 undergraduate and graduate degree programs in science and technology, engineering, forestry, business and economics, health professions, humanities, mathematics, and social sciences. Our campus in Michigan's Upper Peninsula overlooks the Keweenaw Waterway and is just a few miles from Lake Superior.