Tech Student's Art to Hang in Michigan Capitol
By Danny Messinger | Published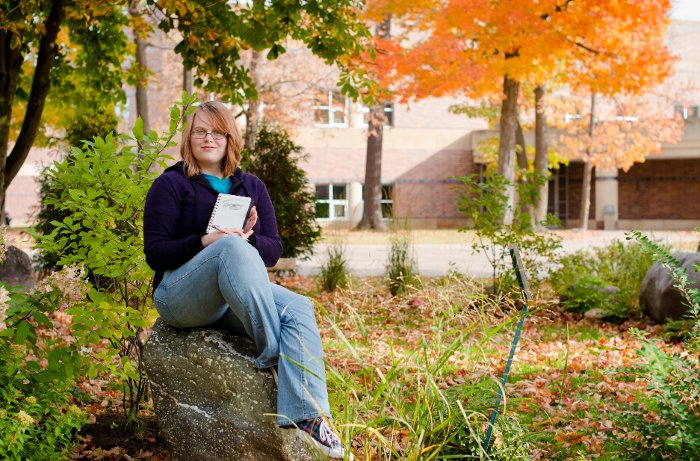 At Michigan Technological University, brilliant left-brained students abound—those who crunch numbers in their sleep and see formulas and equations in every nook and cranny. There are plenty of right-brainers, too, like those who play in the Keweenaw Symphony Orchestra or perform in student productions.
If there were just one Husky who uses both sides of her brain well, though, it might just be Kaylee Edwards.
Edwards, a fourth-year computer science major from Sodus, Mich., has had an appreciation for Japanese anime since childhood. As an aspiring video game programmer, she's honing her artistic side—perhaps for a dream career incorporating both programmer and graphics artist.
Even though she takes plenty of left-brained computer science classes, Edwards keeps her right brain appeased with the classes she takes while she works toward her art minor.
"I've taken 3D design, ceramics, drawing . . . quite a few classes for my minor," she said. "If there were an art major at Michigan Tech, I probably would have double majored."
Now, her hard work is paying off. One of her pieces, Silk Robe, will hang in the Michigan Capitol—part of an annual exhibition called Art in the House that highlights the exemplary work of college artists from Michigan universities. Her piece is one of only a handful chosen to be hung each year.
Silk Robe will be revealed—freshly matted and framed—at an open house on Wednesday, Oct. 16, at the House of Representatives Office Building in Lansing.
"The piece was originally a charcoal study of cloth on a chair that I did for class," says Edwards. "A few weeks later, we had to add something to a piece we had done previously in the class. I decided to add color to the piece for the assignment."
At the end of the semester, Edwards's instructor, Susanne Kilpela, submitted a photo of Silk Robe to the annual Art in the House competition. Now Edwards art work is on its way to Lansing for a 12-month stay.
"I've had Kaylee in several art classes, and she's also been a ceramic studio assistant," said Kilpela, senior lecturer in visual and performing arts. "She is a very studious and creative person. She has a real passion to create art and is always improving her skills."
Edwards attributes her artistic success to mentors she's had in her art classes during her time at Tech. Even when assignments dictate a specific style or subject, she can almost always find a way to bring her love of video games into the project. "My professors have always been open to new ideas, and have really encouraged my growth through my own style," said Edwards.
Michigan Technological University is a public research university, home to more than 7,000 students from 60 countries. Founded in 1885, the University offers more than 120 undergraduate and graduate degree programs in science and technology, engineering, forestry, business and economics, health professions, humanities, mathematics, and social sciences. Our campus in Michigan's Upper Peninsula overlooks the Keweenaw Waterway and is just a few miles from Lake Superior.