New Plaza and Gardens Launch Alumni Way Project
By Dennis Walikainen | Published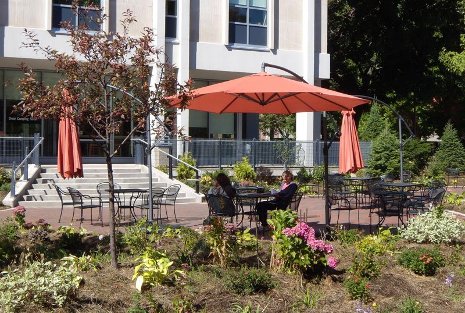 Folks on the Michigan Technological University campus have another place to sip a Starbucks and relax outdoors. The John Rovano Plaza, between the Van Pelt and Opie Library and Rekhi Hall, affords a new place to chill, before it's too chilly.
Lynn Watson, University gardener, says she had to work between the two "pale expanses of the library and Rekhi Hall" and "black slate at eye level, which can further isolate a person from a natural setting."
The result is the plaza and two new gardens, one of which is a strip between two sidewalks. They all run north and south.
Watson views the Tech high rises and tall trees as a "visual canyon." She says, "This is exciting because there is great richness in a canyon floor that is not present in the surrounding areas. The arching bridge between Rekhi and the library reinforces this entering in. The evergreen planting of the vertical elements reinforces this feeling of entry, even looking in from US 41."
The plaza and garden were built in response to students who requested more seating and opportunity to enjoy the beautiful UP summer and fall. An extension of the Library Café, this is the first development of the planned Alumni Way, thanks to a generous donation from Dave Brule, a 1972 graduate of Michigan Tech. A door from the café to the new plaza is next on the construction list. Watson calls her finished work a "relaxed, visually flowing garden." The curves in the design are intentional.
"Slow down, relax," she says. "Find a quiet, private space to unwind, converse, study, think."
Watson also acknowledged Brule's contribution.
"The caliber of the donation, with the vision of people, plants and relaxation on campus, was very generous and will benefit students, staff, faculty and visitors of all ages for many, many years," she says. "Thank you, Mr. Brule!"
Eric Halonen, assistant vice president for advancement, agrees. "We are extremely grateful for the Brule gift. The Library plaza, with its new garden, is a great example of what can be expected as additional funds are raised to continue the Alumni Way campus mall westward."
It's a great first project, Halonen says, for Alumni Way.
"Alumni Way will truly add to our campus and provide students with inviting seating areas; a gathering area for all with our mascot, a Husky sculpture; commemorative tributes to Michigan Tech alumni; and enhanced green space with more landscaping such as that at the Library Plaza," Halonen added. "The Alumni Way will be a place to make memories for new students and celebrate our legacy with all alums and friends of Michigan Tech."
Michigan Technological University is a public research university, home to more than 7,000 students from 60 countries. Founded in 1885, the University offers more than 120 undergraduate and graduate degree programs in science and technology, engineering, forestry, business and economics, health professions, humanities, mathematics, and social sciences. Our campus in Michigan's Upper Peninsula overlooks the Keweenaw Waterway and is just a few miles from Lake Superior.