Message in a Bottle: "Hello, fellow traveler."
By Marcia Goodrich | Published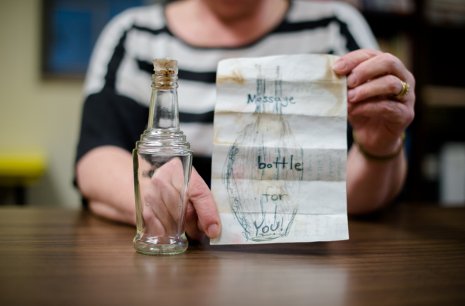 Nancy Auer was walking along the beach on Seven-Mile Point, near Eagle River, when she spied something right out of the days of pirates and castaways.
"A lot of the beach is cobble and gravel, but I looked at the one spot with sand, and there was this bottle," said Auer, a professor of biological sciences. Inside, the message had faded, but had an address. And it said, "Hello, fellow traveler.'"
The message was not written, as in olden times, by anyone in distress. It said, "Thanks for finding our message in a bottle. Send us a message where and when you find it."
So Auer did, which brought her in contact with Danny and Kari Saathoff and their sons, Harrison, 15, and Avery, 13. Danny emailed her back. The Saathoffs, who live in Edina, Minn., had sent out three bottles, corked and sealed with candlewax, on August 7 while they were sailing in Lake Superior. They were released somewhere between Grand Marais, Minn., and Thompson Island, which is near Thunder Bay. Forty days later, on Sept. 16, one of those bottles had washed up on Auers' beach.
Auer suspects it was carried along by one of Lake Superior's currents, an inference that Saathoff found astonishing, above and beyond the fact that she discovered their bottle.
"It is pretty odd how the world comes together, but it's even crazier that Nancy's a biology professor and she knows about the currents," said Saathoff, who is an artist and instructor at Carleton College. "I thought that was just fabulous."
All told, the Saathoffs have set a half dozen bottles loose in Lake Superior. "We just do it for fun," he said. "You like to think that someone will find it, but this is the first one that's been found."
As for Auer, she was delighted to be the recipient and amazed at the bottle's persistence. "There's a lot of big, rocky coast around Lake Superior, and to have this arrive without a chip is pretty amazing."
Michigan Technological University is a public research university, home to more than 7,000 students from 54 countries. Founded in 1885, the University offers more than 120 undergraduate and graduate degree programs in science and technology, engineering, forestry, business and economics, health professions, humanities, mathematics, and social sciences. Our campus in Michigan's Upper Peninsula overlooks the Keweenaw Waterway and is just a few miles from Lake Superior.