International Physicists Drawn to Michigan Tech
By Erika Vichcales | Published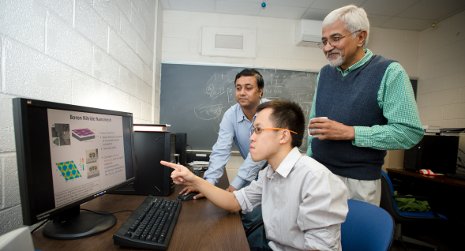 Michigan Tech's Physics Department has a reputation for excellence that reaches around the world.
The department is currently hosting two up-and-coming minds in physics, Sanjeev Gupta, a post-graduate from India, and Jarvis Loh, a post-graduate from Singapore. Gupta and Loh specifically chose to study at Michigan Tech to work with the chair of the Physics Department, Ravindra Pandey. Pandey's research focuses on how to manipulate the properties of graphene for use in electronics.
Gupta is here on a Fulbright Nehru Post-Doctoral Fellowship, a prestigious program that allows international students to study in the United States and US students to study abroad. It is a merit-based, highly competitive program currently working with more than 155 countries. The Fulbright program has supported some of the greatest minds of our time, with 43 Fulbright alumni receiving Nobel Prizes and 78 receiving the Pulitzer Prize.
Jarvis Loh is a recipient of the A*Star, Agency of Science Technology Research, International Fellowship. The A*Star program will enable Loh to study at Michigan Tech for approximately two years. The program's goal is to give PhD graduates two years to gain new skills and to advance their careers in science at leading universities internationally.
Gupta explains why he came to Michigan Tech. "First of all, my work is favorable with Professor Pandey. If it was not favorable, then there would be no need to come. He is a good researcher, so I thought it would be great timing for me to learn something from Professor Pandey and to work in his lab."
Gupta has been on campus since last October, so his fellowship time is coming to a close, but he says he had a great experience with Pandey.
"First of all he [Pandey] is very kind, gentle and open-minded," the Indian scholar said. "He never stopped if I did something wrong, in terms of programming. If I do something, a simple problem or difficult problem, he always motivates me. He has a very friendly nature. This is very important for those doing research. If you have a friendly nature, you can do a lot of work."
Loh has only been in Houghton for about two months, but he is enjoying it so far. "Previously I was not in this field at all; this is a totally new area for me," he says. "My first goal over here is to learn new techniques that I believe will be very beneficial to me in the future in my career. Secondly is to have some scientific contribution in this area that I am in."
Loh's program is a bit different than Gupta's because he will be working for A*Star after his two year fellowship is over, while Gupta is looking for a new place to do research.
Pandey has enjoyed his work with Gupta and looks forward to working with Loh. Having the international fellows here benefits both his personal research and Michigan Tech. "For these two cases, it [the fellows coming] is because of the reputation of Michigan Tech, the Physics Department and the work that I have been doing," Pandey explains. "These two fellows asked me to sponsor them for their prestigious fellowships. It [the fellows choosing Michigan Tech] shows that Michigan Tech's reputation is going up because of the research in physics."
Overall, both Loh and Gupta say they have had great experiences at Michigan Tech. Gupta will fondly remember the huge ice sculptures from Winter Carnival, while Loh is learning how to face the cold.
Gupta highly recommends Michigan Tech to both international students and US students "Please come and join the Michigan Tech family," he says. "This is my family."
Michigan Technological University is a public research university, home to more than 7,000 students from 60 countries. Founded in 1885, the University offers more than 120 undergraduate and graduate degree programs in science and technology, engineering, forestry, business and economics, health professions, humanities, mathematics, and social sciences. Our campus in Michigan's Upper Peninsula overlooks the Keweenaw Waterway and is just a few miles from Lake Superior.