Brass University Seals to Grace the Memorial Union Kiosk
By Marcia Goodrich | Published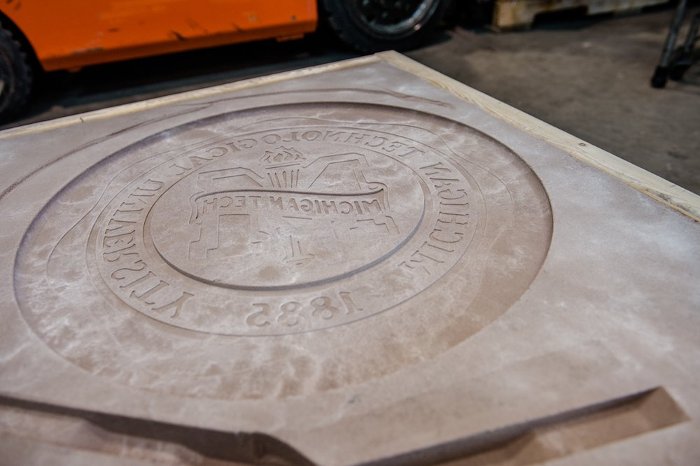 Everything is harder than it first looks. Nonetheless, hard things can still be worth the effort, including the three red brass University seals to be mounted on the time-and-temperature kiosk outside the Memorial Union, plus a fourth one for the Alumni House.
Paul Sanders, assistant professor of materials science and engineering, didn't quite realize what he was getting into when a pair of delegates from the Undergraduate Student Government approached him a couple years ago and asked if he and the Advanced Metalworks Enterprise might want to take on a new project.
"They said, 'Hey, we have this idea. We'd like to cast the University seal and put it in the MUB kiosk,'" Sanders remembers. "We thought, 'This is a great idea, we can do that.'"
Michigan Tech has an actual working foundry, which is why Sanders, a metallurgist and advisor to the Advanced Metalworks Enterprise, was in a position to say yes. However, he quickly learned that the project would not be straightforward.
"We asked, 'Do you have a pattern of the seal? A drawing? Something?' They said no, we don't have anything."
So Sanders contacted University Marketing and Communications and asked if perhaps they had a CAD model of the seal. With a CAD design, they could machine a 3D pattern that could be used to create a sand casting. They had none, but Crystal Verran, director of publications, found him an illustration in EPS format.
"It had the whole design, but we didn't know how to get it into CAD," Sanders said.
Enter Matt Monte of Monte Consulting, who developed a preliminary CAD design based on the University's EPS file. Then Nick Hendrickson, the operations/facilities manager in the School of Technology, used Monte's CAD as a starting point for the CAD code. Efforts to create a large plastic pattern were unsuccessful, so he tried a smaller pattern out of aluminum, which worked beautifully.
Meanwhile, there was the matter of acquiring the metal to cast the seals. Sanders consulted Louis Iannettoni '49, president and owner of Meloon Foundaries, of Syracuse, N.Y., who donated about 300 pounds of red brass, an alloy of copper, tin and zinc.
Mechanical engineering student Matt Dazell, vice president of the Enterprise, used Hendrickson's aluminum pattern to make the sand mold. And then Patrick Quimby, the materials science and engineering laboratory/demonstration coordinator, melted the brass and decanted it into the mold, with Sanders' help.
The seals are already impressive—a deep bronze color, finely detailed and too heavy to drop on your foot without risking injury—but they are not quite finished yet. They need to be polished to bring out the design, and since that's an irreversible action, Sanders and the Enterprise will be taking their time. When they are done, Facilities Management will mount the seals in the kiosk.
"I think the University community will be very pleased," Sanders said, adding "It wouldn't have happened without the many people who stepped up to the plate to help out."
Michigan Technological University is a public research university, home to more than 7,000 students from 54 countries. Founded in 1885, the University offers more than 120 undergraduate and graduate degree programs in science and technology, engineering, forestry, business and economics, health professions, humanities, mathematics, and social sciences. Our campus in Michigan's Upper Peninsula overlooks the Keweenaw Waterway and is just a few miles from Lake Superior.