Students Build a Website to Help Hungry Kids
By Marcia Goodrich | Published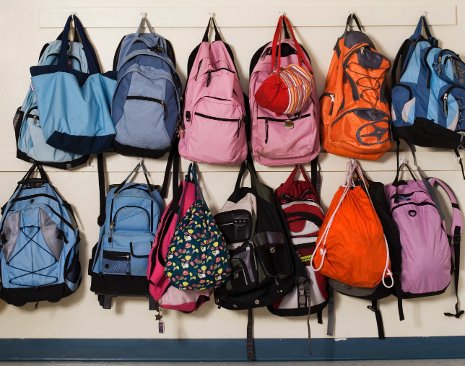 More than 100 local schoolchildren no longer go hungry over the weekend, thanks to 31 Backpacks. But despite its good works, the local charity has been struggling to raise awareness—and funds. What it really needed, thought founder Laurel Maki, was a good website.
Thanks to Michigan Tech students, that dream will soon become reality. Russell Louks's web development class has been working with Laurel and her daughter, Melissa Maki, to create a top-notch web presence for the nonprofit by the end of fall semester.
They approached Louks last spring and asked for help. He was glad to oblige.
"I am always looking for real-world projects for my class, and this turned out to be the best of all worlds: it can be done in a semester, and it's for a good cause," said the professor of practice in the School of Business and Economics. "Everybody wins."
The biggest winners will be the kids. Schools provide breakfast and lunch, but during the weekend, many children were having to do without. So every Friday, the Makis and their helpers deliver bags of food to schools in Houghton, Hancock, CLK, Lake Linden-Hubbell, Dollar Bay, Tamarack City, Adams Township, Chassell and Mohawk. There, volunteers and school staff quietly distribute it to students at risk of going hungry.
"We don't know who they are," said Laurel. "We never meet them." But they do hear stories. One principal told her about seeing a trail of food leading to a tot's backpack. She confessed to sneaking handfuls of taco salad so she could have something to eat over the weekend.
Since 31 Backpacks started its work, children have quit pocketing food from cafeteria. "We've heard what a difference this has made in their lives," Laurel said. "They used to come to school so hungry on Monday that they couldn't concentrate."
The experience has been an eye-opener. "Who knew there were this many children who were going hungry on weekends and holidays?" said Laurel. "I am so thrilled we can do this. We have wonderful volunteers, and the people here are such caring, giving people."
Students in the web development class are proud to be among them. Tony Campbell, a third-year computer science major, is happy to help. "I figured we'd have a group project, but it's really neat to design a website that helps a good cause."
Kaylee Betzinger, a junior majoring in management information systems and marketing, agrees. "We like to be helping someone who really needs it."
Michigan Technological University is a public research university, home to more than 7,000 students from 60 countries. Founded in 1885, the University offers more than 120 undergraduate and graduate degree programs in science and technology, engineering, forestry, business and economics, health professions, humanities, mathematics, and social sciences. Our campus in Michigan's Upper Peninsula overlooks the Keweenaw Waterway and is just a few miles from Lake Superior.