Michigan Tech Enters PhD Program Agreement with University in India
By Marcia Goodrich | Published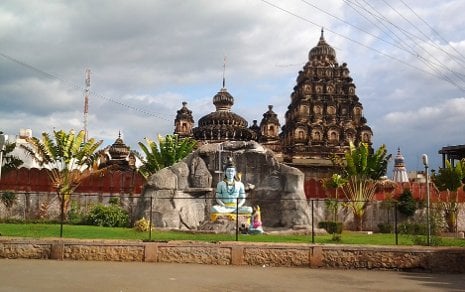 Mechanical engineering faculty from a private Indian university will soon be pursuing their PhDs from Michigan Technological University.
The new agreement with Vidya Pratishthan, located in Baramati, India, creates a 2-plus-2 PhD program in mechanical engineering for faculty, plus a 1-plus-1 master of science program for students.
Qualifying faculty will complete the first two years of their PhD program in India, where they can take Michigan Tech courses online and graduate courses from any of the Indian Institutes of Technology (IITs). Then they will travel to the US and spend the final two years of their program conducting research with Michigan Tech faculty advisors.
"Vidya Pratishthan wants their faculty to have PhDs, and most of them don't," said William Predebon, chair of Michigan Tech's Department of Mechanical Engineering-Engineering Mechanics. At stake is nothing less than independence. Currently, Vidya Pratishthan operates under the wing of the University of Pune. To be fully independent under Indian law, it must have a certain percentage of faculty with terminal degrees.
For Michigan Tech, the agreement should result in a stream of highly qualified doctoral students whose tuition will be fully covered. That means that they will be free to work on promising new research projects, since their effort will not need to be funded by outside agencies.
"By supporting early work, the PhD students help create seed projects that are more likely to receive funding down the line," Predebon said. "In addition, Vidya Pratishthan is a quality institution, and the fact that they want their faculty to earn degrees from Michigan Tech enhances our reputation."
It was Michigan Tech's reputation that launched the agreement. Suryaji (Steve as he is called in the US) Bhonsle, an Indian national who earned his PhD from Michigan Tech in 1968, encouraged officials at Vidya Pratishthan to pursue a relationship with the University.
Predebon traveled to India last month to complete the agreement with Vidya Pratishthan, along with Professor Craig Friedrich, who spearheaded the memorandum of understanding. There, they also spoke with officials from Cummins and the company Persistent to promote research cooperation and discuss opportunities to provide advanced degrees to their professional staff.
In addition, they met with the Indian minister of agriculture and with Sonia Gandhi, president of the Indian National Congress Party and one of the most powerful women in the world. The meeting with her probably wouldn't have happened without an accident of birth. "She is my second cousin," Predebon said. "We were there for half an hour. I gave her all sorts of Michigan Tech memorabilia and shared our family history." Gandhi was born in Italy, as was Predebon's grandfather.
The first prospective PhD student from Vidya Pratishthan has applied to enter the new 2-plus-2 program and is expected to enroll in spring or fall 2014. As the program progresses, it may be expanded to include other engineering disciplines at both universities. "There's hope that there will be exchange between our institutions, so that our faculty will go there on sabbatical, possibly teach courses," Predebon said. "That's part of the plan."
Michigan Technological University is a public research university, home to more than 7,000 students from 60 countries. Founded in 1885, the University offers more than 120 undergraduate and graduate degree programs in science and technology, engineering, forestry, business and economics, health professions, humanities, mathematics, and social sciences. Our campus in Michigan's Upper Peninsula overlooks the Keweenaw Waterway and is just a few miles from Lake Superior.