Student Makes a Graphic Point about Recycling and Reducing
By Sarah Kelly | Published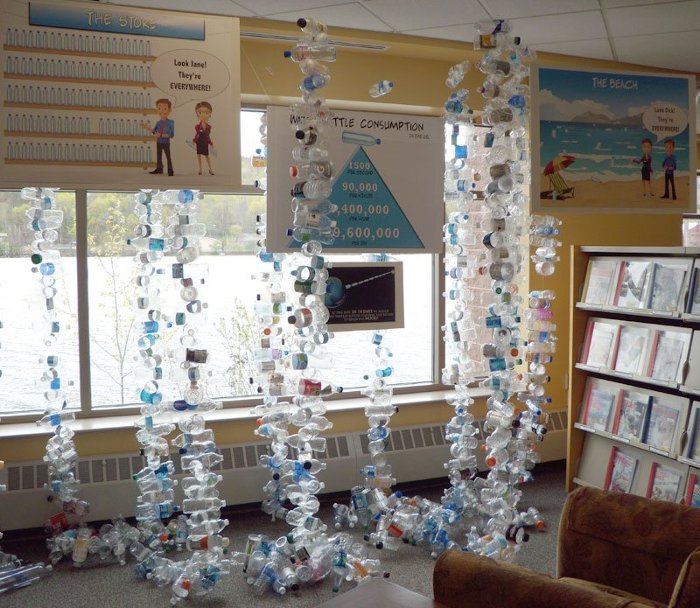 Most people have heard the phrase, "Reduce, reuse, and recycle." However, one Michigan Technological University student decided to take a different approach to bringing awareness to reducing and reusing.
Melissa Michaelson created a striking display containing 600 plastic water bottles that she collected from recycle bins and dumpsters.
Michaelson's display was part of a social-change assignment for the course Rhetoric of Everyday Texts, taught by Lauren Bowen, assistant professor of composition in the humanities department.
"People think of rhetoric as this political thing, so I wanted to try to show it doesn't have to be used to gain power or prestige and that it can be used to make a difference," said Bowen. "Melissa did a great job. She chose a topic that she was passionate about and executed it well."
"Seeing pictures of plastic pollution and noticing how big a problem it is made me think, 'Where can we start?'" Michaelson said. "As I researched the topic, there was a lot of information on water-bottle consumption, so that made it an easy place to start and maybe an easy habit to change."
Her exhibit included a display of the numbers of water bottles that are used in a day. She also included fact sheets and packets of Gatorade, laid out as an easy alternative to buying Gatorade in plastic bottles.
The 600 water bottles collected represent less than one-half of what is consumed in one second nationwide, MIchaelson said. And the plastic waste that accumulates is not the only negative effect. Each year, 17 million barrels of oil are used to produce plastic bottles.
The fact that the 600 bottles were collected at Michigan Tech seemed astounding considering that there are twelve water bottle refill stations located at various campus locations, including all three residence halls, and academic buildings such as the Van Pelt and Opie Library, Walker Arts and Humanities Center, and the Chemical Sciences and Engineering Building.
Michaelson's exhibit aimed to shock viewers with images that drew them in to read the facts and become acquainted with the concept of reducing and reusing. Her biggest challenge was finding an effective way to raise awareness without being there to talk to her audience. "Just look at this," she wants her exhibit to say. "This is an issue. It's real. Let's just do one small step."
Michaelson's water bottle exhibit premiered at Fisher Hall on campus. It is now on display at the Portage Lake Public Library in downtown Houghton.
Follow Michaelson's project on her Facebook page.
Michigan Technological University is a public research university, home to more than 7,000 students from 54 countries. Founded in 1885, the University offers more than 120 undergraduate and graduate degree programs in science and technology, engineering, forestry, business and economics, health professions, humanities, mathematics, and social sciences. Our campus in Michigan's Upper Peninsula overlooks the Keweenaw Waterway and is just a few miles from Lake Superior.