Commencement 2013: The Last Day, the First Day
By Kevin Hodur | Published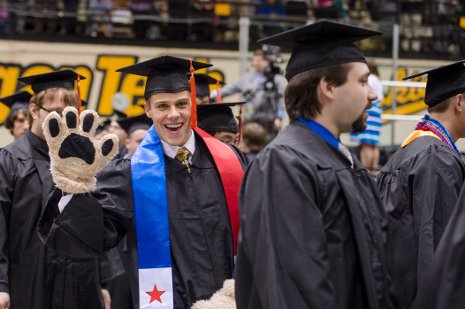 "The future is already here; it's just not very evenly distributed"
–President Glenn Mroz, quoting novelist William Gibson
Twice a year we celebrate all of the wisdom developed behind closed doors and in lecture halls and in the field. But because it happens twice a year doesn't mean it's ordinary, uneventful. It brings together hundreds of lives, thousands of accomplishments, millions of thoughts and ideas.
Commencement is a celebration of what is possible.
90 minutes before the ceremony
The Peter J. Grant Hockey Education Center is a beautiful facility, designed to help student-athletes learn and grow and relax, all in one place. This morning it hosts the VIP Breakfast prior to Spring Commencement.
It's quiet, though; the VIPs are running a few minutes behind, but for a good cause. The ROTC commissioning ceremony has 22 freshly minted second lieutenants, and the President, the Commencement speaker and the Board of Trustees are all still there. A few staff members, coordinating this complicated occasion, are getting a bit nervous. Commencement is on a tight schedule.
60 minutes before the ceremony
The dignitaries make their way in, President Glenn Mroz and his wife, Gail; the Board of Trustees. David Barnes, the Commencement speaker, arrives a few moments later. With limited time to eat and handle media duties, coffee is more popular than scrambled eggs and sausage.
David Barnes skips breakfast altogether, opting to swig his energy drink and meet with the media. He is a natural in front of a microphone, handling interviews as though he were ordering lunch: no hesitation, no nerves. He tells tales of giving presentations to kings and queens, CEOs and industry experts. Barnes has been a lot of places, and he has much more he wants to see.
30 minutes before the ceremony
Some of the students in the hallway of the SDC are in a daze. They're looking for friends and loved ones before the final line-up. A few students are giving interviews, talking of what they've done and what they will do. Tyler Losinski, freshly engaged, is now able to reveal himself as one of the students under the Blizzard costume. He's in his costume, in fact, aside from the head. He's smiling, proud, eager for what's next: marriage and starting his job at an engineering consulting firm at the end of July.
A few students run in late, dashing into the Multi-Purpose Room and taking their places in line with 1,000 of their peers.
It's just about time to go.
Ceremony
The MacInnes Student Ice Arena is a bit chilly, even without the ice. The podium is set up near what is usually the Huskies goal, the ceiling high overhead, the scoreboard unlit.
Brenda Rudiger, director of Alumni Relations, isn't nervous. Unlike everyone else at the podium today, she is not in a cap and gown. Every year, she signals the unofficial start to Commencement with her announcement to turn off mobile phones and other announcements. Her work is done in less than 60 seconds, and she's off to the Multi-Purpose Room. There are preparations to make for the celebration after the ceremony, welcoming new alumni to the family of Tech graduates.
Mari Buche, university marshal and associate professor of management information systems in the School of Business and Economics, leads the proceedings, guiding first the graduate, then the undergraduate students down the aisle. Then the podium dignitaries make their way to the stage.
President Mroz's speech is short and to the point, expressing his thanks to the Board of Trustees for attending and the families and friends of graduates who have made the trek (mostly) north. He recounts the tales of what alumni have accomplished, and also what today's graduates have achieved. It's a chance to appreciate just how many paths the Huskies family has walked.
The student speaker, Katie Price, is next to speak, one peer looking out and speaking to a sea of others. "It's not just the amazing things I've done here, but the amazing people I've done them with," she says. Plenty of nods.
David Barnes takes the podium. He describes what it's like out there, how to get from here to there. He recalls finding work, finding it at a young age. But then he found his passion.
"Find your passion, make it viral."
Barnes traces back through history the idea of the good old days, stressing that they aren't behind us. "Every day of your lives is the good old days," he says.
"Especially today."
Barnes is awarded an honorary doctorate, quipping "this is the coolest thing I've ever achieved." For someone famous for his speaking engagements, his series of commercials, and his YouTube videos, that's saying something. He stresses one more time, before the awarding of degrees begins, for today's graduates to "find what makes you tingle."
Signing Off
Following the degrees, President Mroz gives some final remarks before the Huskies Pep Band crashes the party. One last memory of the Tech community for many of the students, one small taste of the college years for their families and friends. And with that, the dignitaries make their way out, followed by the graduates.
The hallways are crowded, a sea of relief, graduates and families trying to locate each other, friends seeing each other in passing, maybe for the last time. The one guy from physics class. What's-her-name from chemistry. Was that my Perspectives instructor?
A Final Glimpse
By 3 p.m., the crowd has largely thinned, the hallways are mostly navigable. A couple of students are chatting, caps and gowns still on. They exit the building where a few dozen families with camera are still milling about. Their families are standing at opposite ends of the entrance plaza. It's time to part.
"Hey," one says to the other simply. "See you around." A pair of smiles and they turn and go their separate ways. One's family meets him in stride, and they walk off toward the Gates Tennis Center and the parking lots. The other goes up to his parents and puts an arm around each of them and smiles again.
"Well?" they ask him.
He looks back at the entrance, at his friend walking away, at the cars leaving. He smiles again.
"Let's go."
Michigan Technological University is a public research university, home to more than 7,000 students from 54 countries. Founded in 1885, the University offers more than 120 undergraduate and graduate degree programs in science and technology, engineering, forestry, business and economics, health professions, humanities, mathematics, and social sciences. Our campus in Michigan's Upper Peninsula overlooks the Keweenaw Waterway and is just a few miles from Lake Superior.