Yun Hang Hu Named a Fellow of the Royal Society of Chemistry
By Marcia Goodrich | Published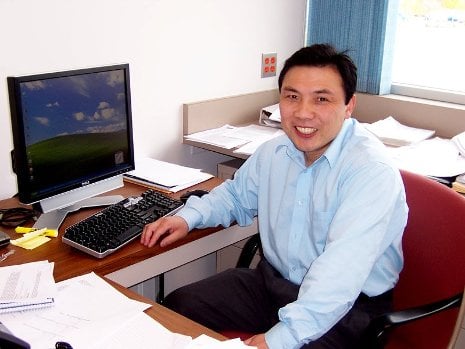 Yun Hang Hu, the Charles and Carroll McArthur Professor at Michigan Technological University, has been admitted as a Fellow to the Royal Society of Chemistry.
The RSC is the largest organization in Europe for advancing the chemical sciences. Supported by a worldwide network of members and an international publishing business, its activities span education, conferences, science policy and the promotion of chemistry to the public.
Among his many research accomplishments, Hu has developed a method for converting carbon dioxide to carbon nitrides. He has also made significant contributions in the field of hydrogen storage materials, and his investigations into the use of graphene to improve solar cells' efficiency led to his selection as a presenter at the National Science Foundation's USA-Egypt Solar Workshop in 2012.
Hu has published 110 papers in peer-reviewed journals, and those papers have been cited more than 3,000 times. He has edited three American Chemical Society series books, guest-edited two international journals and served on the editorial boards of five international journals. In addition, Hu has organized and chaired more than 20 international symposia on materials, energy and chemistry.
Hu is on the faculty of the Department of Materials Science and Engineering.
Michigan Technological University is a public research university, home to more than 7,000 students from 54 countries. Founded in 1885, the University offers more than 120 undergraduate and graduate degree programs in science and technology, engineering, forestry, business and economics, health professions, humanities, mathematics, and social sciences. Our campus in Michigan's Upper Peninsula overlooks the Keweenaw Waterway and is just a few miles from Lake Superior.