Pasties and Beyond: Streetcars, Paddleboarding, Kid Science and More at Alumni Reunion 2013
By Marcia Goodrich | Published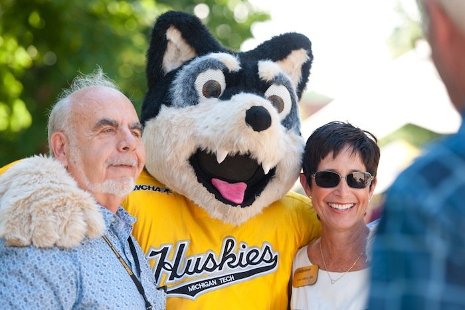 Pasties are a proud Alumni Reunion tradition at Michigan Technological University. This year, there's a new twist: you can watch a chef deftly prepare the Copper Country's signature dish before heading out to the ever-popular Pasty Picnic.
These and lots more fun and interesting events are planned. Find out about sleep apnea and old-time streetcars from University faculty, take a nature hike and learn to kayak. There are free rides on the University's research vessel, the Agassiz, and science demonstrations for the kids. It's all happening at the 2013 Alumni Reunion, set for Friday-Saturday, Aug. 1-3.
The featured groups in this gathering include the Classes of 1963, 1973, 1983, 1988, 1993 and 2003, as well as the Golden Ms, who graduated 50 or more years ago. Reunion is a great opportunity for all former students and members of the University community to get together and rekindle relationships.
Registration information
All of the following events are open to the public, and many are free. You can sign up by going to www.mtu.edu/reunion and clicking the registration button at the top. Or, you can register and buy tickets by calling 906-487-2400 or visiting the Alumni Reunion Registration Area, which will open in the Memorial Union on Wednesday, July 31. Attendance at some events is limited, so consider registering early.
Thursday, Aug. 1
Reunion opens at 8:30 a.m. with the Welcome Breakfast in the Memorial Union Ballroom. Tickets are $12, $5 for children 6-12, and free for children under 6. Immediately after breakfast, at 9:30 a.m., student tour guides will lead alumni on a free walking tour of campus, starting in the Memorial Union Ballroom.
Two Tech Talks will be held in Fisher 139. At 10 a.m., civil and environmental engineering professor Bill Sproule, the author of "Copper Country Streetcars," will discuss how the quaint conveyances shaped travel during the region's mining boom. At 11 a.m., Jason Carter will give a talk on the health effects of sleep deprivation, "Taking Sleep to Heart." Carter is chair of the Department of Kinesiology and Integrative Physiology.
McNair Dining Hall is open for lunch, and everyone is invited to check out the typical student dining experience. Cost is $9, free for children under 6.
After lunch, Chef Eric Karvonen will hold a free pasty-making demonstration and tasting at 1 p.m. at the Hillside Place Upper Lodge. Guests are welcome to explore Michigan Tech's newest residential facility. The event is sponsored by the Graduate School; representatives will be on hand to discuss graduate programs.
The Pasty Picnic follows at 4 p.m. on the campus green between the Electrical Energy Resources Center and the Chemical Sciences Building (rain site: Memorial Union). Pasties, pickled eggs, KBC beer, salads, desserts and other beverages are included. Tickets are $16, $7 for children 6-12, free for children under 6.
The day ends with the Keweenaw Alumni Chapter and Friends Social, which begins at 6 p.m. at the Keweenaw Brewing Company.
Friday, Aug. 2
President Glenn Mroz will give a talk on where the University is and where we are headed at the All-Class Alumni Breakfast, which begins at 8:30 a.m. in the Memorial Union. Tickets are $12, $5 for children 6-12, free for children under 6. The class-year gatherings and class photos of the featured classes will follow downstairs in the Keweenaw Commons at 10 a.m.
Then at 10:30 a.m., the Golden Ms will receive their pins and certificates from Mroz upstairs in the ballroom. The Golden M Luncheon follows at noon; tickets are $14, free for children under 6.
Who eats whom in the Great Lakes? Kids will have a chance to find out themselves as they dissect trout stomachs during the Children's Laboratory Exploration, set for 10 a.m. at the Great Lakes Research Center. The event is free, and parents and grandparents are welcome. Preregistration is required.
McNair Dining Hall will again be open for lunch from 11 a.m. to 1 p.m. Cost is $9, free for children under 6.
Many departments are holding open houses beginning at 1:30 p.m., and the Admissions Office is leading guided tours of campus starting at 2 p.m.
From 2 to 3:30 p.m. science educator Joan Chadde will lead the free Family Nature Hike at the Nara Nature Trails, two miles east of campus on US 41. Meet at the trailhead lodge.
The Alumni Reunion Dinner closes the day, with a 5:30 p.m. social followed by dinner at 6:30 p.m. Tickets are $30, $15 for children 6-12, free for children under 6.
Saturday, Aug. 3
This is the day to get out and enjoy the Keweenaw, courtesy of Tech's Outdoor Adventure Program. The OAP is hosting a four-hour canoe trip on the Sturgeon River. Meet at 9 a.m. at the Alumni House. Cost is $25 and includes all equipment, transportation and snacks.
At 2 p.m., OAP is leading an introduction to kayaking and paddleboarding at the Houghton Beach, on Lake Shore Drive. Drop in anytime during the two-hour clinic. The cost is $10.
If you'd rather walk and ride than paddle, join the Keweenaw Waterfall Tour and Hike, which starts at 2 p.m. The $25 cost includes snacks and transportation to Hungarian Falls, Jacobs Falls and Eagle River Falls. A portion of the proceeds will go to the Keweenaw Land Trust to preserve public access to Hungarian Falls and other natural resources.
The School of Forest Resources and Environmental Science will hold an Alumni Awards Ceremony at 3 p.m. at Kestner Waterfront Park, in Houghton. Following at 4 p.m. will be a retirement social for longtime faculty member Marty Jurgenson.
Reunion winds up at 4 p.m. with the Women of Michigan Tech Social in the Alumni House. The event is free and honors alumnae, Tech wives, faculty, staff and current female students. Everyone is welcome to come and enjoy complimentary appetizers and a cash bar.
For more information, visit www.mtu.edu/reunion or contact Alumni Relations at alumni@mtu.edu or 906-487-2400.
Michigan Technological University is a public research university, home to more than 7,000 students from 54 countries. Founded in 1885, the University offers more than 120 undergraduate and graduate degree programs in science and technology, engineering, forestry, business and economics, health professions, humanities, mathematics, and social sciences. Our campus in Michigan's Upper Peninsula overlooks the Keweenaw Waterway and is just a few miles from Lake Superior.