Local Alumnus Engineers a Trip to Le Mans and a Career in Racing
By Dennis Walikainen | Published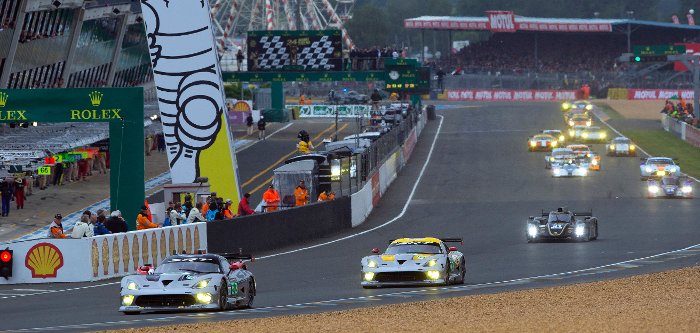 His cell phone area code is still 906, reflecting his Upper Peninsula roots, but Rob Waara's role as chief engine engineer with the SRT Viper racing team has taken him far afield, including to the 24 Hours of Le Mans.
That endurance race meant some incredible hours for the engineers prepping the two Vipers: 24 to 40 hours straight, just like the race. And he's still busy.
"I've had three weekends off since January," says the 2009 mechanical engineering graduate of Michigan Technological University. "For Le Mans, we did calibration, mapping, development for the long shift, durability. We really made it a true simulation: dropping the rpms for shifts on the dyno, watching the engine, just like at the track."
He got to see that track, and they got great results for a two-year old racing team: eighth and ninth place.
Le Mans was unbelievable, Waara says. "There are 250,000 people in this small-town area. It's one of the biggest sporting events on earth. People camp out in fields, carry banners and signs and wear team colors, just like soccer fans."
The 90-year-old race is also one the toughest, as teams of three drivers take four-hour shifts around the 8.5-mile course. It can be raining on one section and sunny on another, so the drivers have no idea what kind of road surface is ahead.
Most of Waara's work there involved tweaking traction control, tires, slipping "with lateral Gs and straight-line Gs [gravitational pull]." The 450 to 500 horsepower engines worked flawlessly, he says.
And they had high-tech engineering to help them. In the pits, thirty monitors kept track of everything via wireless data streaming, so the engine team, all two of them, and others could stay on top of it all.
"Just to finish is an accomplishment," Waara says of the 24 Hours of Le Mans.
Now he's on the road again, taking the Viper to the races of the American Le Mans Series (ALMS). " SRT wanted to reintroduce the 2013 Vipers into production in a big way," he says, "so they chose the ALMS."
That series has Waara traveling at least once per month, with stops in Baltimore, Texas, Connecticut, Toronto, Monterey, Atlanta, Long Beach and more.
"I'm always working, but I love my job," he says. "Roush is an excellent, private company, with a great family feel. It's not over-managed; they give you freedom."
And his Michigan Tech education serves him well, especially what he learned in one class.
"Controls. I use that knowledge all the time," Waara says. "I use it for paddle shift [semi-automatics transmission] and traction control calibration"
Another Tech alumnus helped Waara get his start. Mike Hoffman '80, a Ford Motor Company retiree, brought him in on a co-op, and he eventually helped him get the full-time gig at SRT.
"They look for Tech grads around here," he says. "We have that 'whatever it takes' attitude, and people want that."
And, finally.
"No, I don't get to drive the race cars, but I do get to drive the production Vipers," Waara laughs. "And I've driven the Ford Shelby Mustang with 662 horsepower. It's hard to believe people on the streets can have that much power."
It's not too hard to believe, however, that the guy who cut his teeth at the family service station in Lake Linden is immersed in the super fast and exclusive world of ALMS racing.
Michigan Technological University is a public research university, home to more than 7,000 students from 54 countries. Founded in 1885, the University offers more than 120 undergraduate and graduate degree programs in science and technology, engineering, forestry, business and economics, health professions, humanities, mathematics, and social sciences. Our campus in Michigan's Upper Peninsula overlooks the Keweenaw Waterway and is just a few miles from Lake Superior.