Winter Baja on the Michigan Tech Campus Saturday
By Marcia Goodrich | Published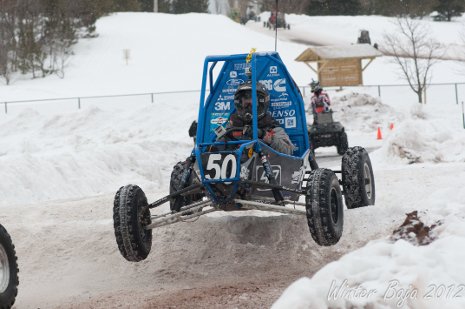 The 2013 Winter Baja will be held Saturday, Feb. 16, near the Student Development Complex at Michigan Technological University.
The event, which was previously held in Lake Linden, kicks off National Engineers Week at Michigan Tech. It has attracted more than 50 off-road vehicles from 22 universities, which will race around a one-mile snow course.
In addition, concessions and displays from industry partners, including Cummins, Kohler Engines, Nexteer and others will be set up in the basketball gym of the SDC. Doors open at 9 a.m., admission is free, and food and beverages will be available.
The parade lap starts at 9:45 a.m., and the two-hour endurance races begin at 10 a.m. and 1 p.m. The final segment is the dynamic event, at 3:30 p.m.
Winter Baja has traditionally been a tune-up event for the Society of Automotive Engineers' Baja SAE competitions, a series of international events that draws student teams from around the world. Student engineers build their vehicles from scratch around a Briggs and Stratton 10-horsepower engine.
"With a record number of vehicle registrations, this event pays tribute to the roots of the Baja SAE Collegiate Design Series, which began at Michigan Tech nearly 30 years ago when Tech professor Bill Shapton decided we needed more hands-on engineering," said Zachary Peck, a member of the Blizzard Baja Enterprise. "A race that first led students through beaver dams and sand pits, from the abandoned Keweenaw town of Mandan up to Copper Harbor, has evolved into a global engineering series with annual events in South Africa, Brazil, Korea and North America.
"Please join the Blizzard Baja team us this Saturday at the Student Development Complex to check out some exciting side by side racing, or step inside the wood gym to warm up from the cold."
Sponsors are Cummins, Michigan Tech Mechanical Engineering, Kohler Engines, Nexteer, TeamTech Motorsports, Wells Fargo, Houghton Powersports, EZ-Ryde Suspension, Vollwerth's and the Michigan Tech Employees Federal Credit Union.
For more information, contact Mandi Severn at mmsevern@mtu.edu or Peck at zmpeck@mtu.edu.
Michigan Technological University is a public research university, home to more than 7,000 students from 60 countries. Founded in 1885, the University offers more than 120 undergraduate and graduate degree programs in science and technology, engineering, forestry, business and economics, health professions, humanities, mathematics, and social sciences. Our campus in Michigan's Upper Peninsula overlooks the Keweenaw Waterway and is just a few miles from Lake Superior.