Employers, Students Brave Blizzard to Build Their Futures
By Kevin Hodur | Published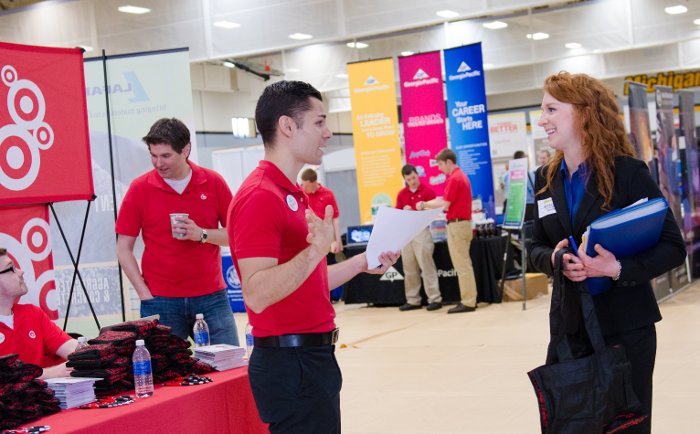 Michigan Tech's Career Fair is an event awash in numbers, statistics, efforts to quantify the success of our students and the health of the overall economy. The numbers so frequently tell the story.
Behind these figures, though, there are the students and employers themselves, and the careers and lives that they're building together. Tuesday, the Multipurpose Room at the Student Development Complex hosted hundreds of companies that braved a blizzard to meet the ambitious, motivated and talented students of Michigan Tech.
Largest Spring Fair Ever
Representatives of 229 corporations attended, and more than 2,000 interviews were scheduled.
Just inside the doors of the SDC is the Michigan Tech Sports Hall of Fame. Shortly before noon, it was a sea of winter jackets and boots. There is even a full-body hunting suit visible in the piles of synthetic fibers. Students have braved a blizzard, with more than a foot of snow, determined to show up and stand out. Classes have just been canceled due to the weather, a true Tech rarity. The question of canceling the Career Fair is moot, however: students are crowding the lobby, a half-hour before the fair opens.
Inside the room, most of the companies are set up and ready to go. Clusters of smiling professionals in colorful polo shirts are eager to spend a few minutes talking about their companies, keeping an eye on the main door and the rush of students they expect and hope for.
Randy Poirier is director of drives and propulsion engineering at Mercury Marine. He's also a graduate of Michigan Tech, so he knows what to expect at the Career Fair. "From Michigan Tech students we expect a good technical education, but also hands-on experience," he says. "The Enterprise program and Senior Design fit well with our organization."
Mercury Marine is planning on conducting 70 interviews while on campus, splitting between full-time positions and co-ops. "Tech has young, talented individuals, so this is one of our primary spots," says Poirier.
Across the floor, Christopher Strebel from Integrys is happy to be back on campus, having graduated eight years ago. His company is looking to fill five positions, "from intern to co-op and full time. " It's a familiar path for him: he smiles while looking out across the room from his corner booth, remembering being in the students' shoes. "That was me not too long ago."
At the opposite corner of the room, Rob Sweet of Jackson National Life Insurance is equally enthusiastic about recruiting at Tech. "We recruit more than half of our internships here," he says "And we make a significant number of full-time offers to those interns, too." Jackson recently opened an office in Michigan Tech's SmartZone facility, making a close relationship even closer, and Sweet relocated here to work in the office. The company's commitment to Tech runs deep.
Former students abound around the room, from Burlington Northern-Santa Fe to Bechtel and many of the booths in between. The pipeline of Michigan Tech students is a strong one, demonstrating the value of a Tech education.
High Starting Salaries
Tech graduates earn the 12th highest starting salaries in the nation among public universities; the average starting salary is $56,000.
For the Career Services staff , this is one of the biggest days of the year, months of labor brought to a head the help students find the next step in their paths. Dozens of employees, assistants and students are helping to make this event the success it is every semester. It's a carefully choreographed routine put on by a team of professionals. They take pride in the helping hand they are able to give to the students of Michigan Tech.
"This is the largest spring Career Fair we've ever had, beating last year's total by about fifty companies," says Julie Way, assistant director of Career Services. "And it's the largest career fair per capita in the entire country."
All of this effort tells the story of a Michigan Tech education. Brenda Rudiger, executive director of Alumni Relations, recounts one such tale as she exchanges stories with the many alumni here as company representatives. A student had his pants tailored for today and tried to pick them up this morning. But the blizzard left most local businesses closed. A few phone calls and a lot of tenacity later, he found a way to pick up his pants and be ready for the big day. "They're showing a special kind of dedication today," Rudiger says, understating it.
96% placement rate
Diana Olechiw, a first-year student in management information systems, is here to think about an internship and get a sense of what goes on at Career Fair. "I wanted to scope it out; that way when I really need an internship, I'm ready."
Out in the hallway, Dean Keithly, a mechanical engineering student from Rochester Hills, Michigan, is taking a break, a small, contented smile on his face. "Catching my breath," he says. "I think I've got nine or ten interviews lined up so far. I have a lot more booths to stop at, though."
Dyllan Walker, an environmental engineering student, feels equally confident, saying that "it all went really well, so I'm waiting for some calls."
Confidence was a theme for many students, with one electrical engineering student quipping, "it can be a little overwhelming, but yeah, I'm confident." Ryan Carli, a chemical engineering student, waits in line to meet with a representative. He is relaxed, chatting with a friend. "Nothing but confident," he says with a smile.
Tuesday evening and Wednesday will be filled with literally thousands of interviews. In the shadow of the biggest snowstorm of the season, these students are breaking the ice, paving the way for their next steps.
Back in the hallway, Glen Shaw, a mechanical engineering student graduating soon, is attending his final Career Fair, getting ready for the job he's always wanted. "I've got two interviews lined up already, and I expect to get nine or ten more," he says. He stops, thinking about what comes next. "It's not about how many," he says after a second. "These interviews are for the job I want, and they're near my family and friends." He's back in motion, flipping through his portfolio, ready to take another lap around the room. "It's exactly what I want to be doing."
Michigan Technological University is a public research university, home to more than 7,000 students from 54 countries. Founded in 1885, the University offers more than 120 undergraduate and graduate degree programs in science and technology, engineering, forestry, business and economics, health professions, humanities, mathematics, and social sciences. Our campus in Michigan's Upper Peninsula overlooks the Keweenaw Waterway and is just a few miles from Lake Superior.