Michigan Tech Appoints Two New Robbins Chairs
By Jennifer Donovan | Published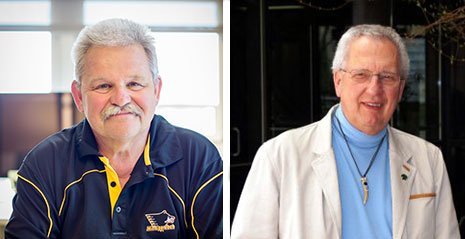 Michigan Technological University has appointed two new Robbins Chairs in Sustainability: Terry Sharik, dean of the School of Forest Resources and Environmental Science, and Guy Meadows, director of the Great Lakes Research Center. Sharik will hold the Robbins Chair in Sustainable Resources, and Meadows, the Robbins Chair in Sustainable Marine Engineering.
David Shonnard and Craig Friedrich will continue for a second five-year term as Robbins Chair in Sustainable Materials and Robbins Chair in Sustainable Manufacturing respectively. Research Professor Rolf Peterson will be rotating out.
Both Sharik and Meadows already hold leadership positions at Michigan Tech in the key strategic area of sustainability. Sharik deals largely with terrestrial ecosystems dominated by forest, while Meadows focuses on aquatic ecosystems with a major emphasis on the Great Lakes, Lake Superior in particular.
"Both are senior scientists and leaders who are energetic and passionate about what they do", said President Glenn Mroz. "They have combined their experience with a sense of urgency to advance sustainability education and research at Michigan Tech. We are very grateful to Bonnie and Dick Robbins who made this possible. They are very excited about the new chairs."
Sharik holds a Bachelor of Science in Forestry and Wildlife Management from West Virginia University and Master's and PhD degrees in Forest Recreation and Forest Botany respectively, from the University of Michigan. Prior to assuming the SFRES deanship in July 2012, he held faculty positions at Oberlin College, Virginia Tech, Michigan Tech, University of Michigan Biological Station and Utah State University.
While teaching at Michigan Tech, Sharik served as president of the University Senate and as co-director of the Lake Superior Ecosystem Research Center. During his tenure at Utah State, he headed the Department of Forest Resources and the Department of Environment and Society, both in the College of Natural Resources.
After graduation from Purdue University in 1977, Meadows joined the faculty of the University of Michigan College of Engineering, where he served as professor of physical oceanography for 35 years. During that time, he served as director of the Ocean Engineering Laboratory, director of the Cooperative Institute for Limnology and Ecosystems Research (NOAA, Joint Institute), director of the Marine Hydrodynamics Laboratories and founding academic director of the M-STEM Academy.
Meadows joined Michigan Tech in June of 2012, to help establish the new Great Lakes Research Center. His primary goal is to blend scientific understanding and technological advancements into environmentally sound engineering solutions for the marine environment, through teaching, research and service.
His teaching reaches beyond the University to less formal settings and includes five nationally televised documentaries for the History and Discovery Channels. His primary research interests are in geophysical fluid dynamics with emphasis on environmental forecasting and full-scale Great Lakes and coastal ocean experimental hydrodynamics. He has influenced policy and explored societal impacts of environmental forecasting for coastal management, recreational health and safety, and regional climate change.
Michigan Technological University is a public research university, home to more than 7,000 students from 54 countries. Founded in 1885, the University offers more than 120 undergraduate and graduate degree programs in science and technology, engineering, forestry, business and economics, health professions, humanities, mathematics, and social sciences. Our campus in Michigan's Upper Peninsula overlooks the Keweenaw Waterway and is just a few miles from Lake Superior.