A Genius Idea: Tech Alumni's Website Provides Interactive Trail Maps for Mont Ripley
By Danny Messinger | Published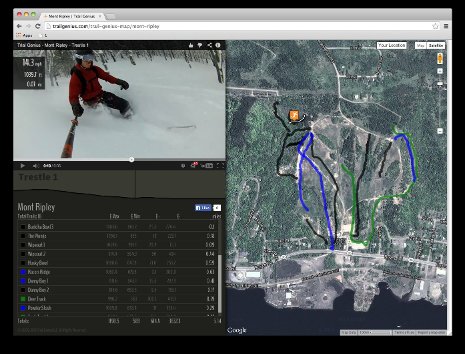 It's common advice: the best way to make a living is to find a way to get paid to do what you love. But few people actually make it to that point.
Count Michigan Technological University alumni Chris Marr '00 and Jason Manders '00 among those lucky enough to be able to claim they've done just that. Together, Marr and Manders founded Trail Genius, a web-based service that combines video and GPS data to create interactive maps of biking, hiking, running and skiing trails.
"Jason and I met during our first year at Michigan Tech," says Marr. "We both shared a passion for videography and outdoor sports, and we wanted to get paid to mountain bike. We started experimenting with pairing video and biking, and over time we were able to grow it into a sustainable business."
Fast-forward ten years, and Trail Genius has already become a thriving community of trail enthusiasts.
Initially, Trail Genius focused on mountain bike trail systems, with myriad add-ons to enhance traditional aerial map views. Real-time video, and elevation, speed and distance information are paired with a bird's-eye view of each featured trail system.
The site saw plenty of success right from the starting line since it provided an entirely new approach to trail mapping, but Marr says the Trail Genius team began branching out even further—adapting their services to ski trails, cross-country races, triathlons and more.
"The Keweenaw has awesome trails for jogging, skiing and biking," says Marr. "But few people want to drive up here on word of mouth alone."
Nick Sirdenis, general manager of Michigan Tech's ski hill, Mont Ripley, is certainly no stranger to the challenges of attracting patrons to an area as remote as the Keweenaw Peninsula.
As evidenced by this year's crowded opening weekend, plenty of local residents and Tech students frequent the hill. Convincing regional winter-sports enthusiasts to make the journey to Houghton, though, can prove challenging. For aspiring business owners Manders and Marr, it provides an ideal opportunity to try a new avenue for Trail Genius.
Marr, a Mont Ripley ski patrol member, began filming Mont Ripley's runs last winter whenever conditions were particularly good. Those first 15-or-so runs are already available on Trail Genius. They're giving Sirdenis a great tool to help market the hill.
"Trail Genius helps us show off the hill regionally," Sirdenis says. "Someone from Green Bay can look at the trails on the site and get a true feel for what Mont Ripley has to offer. The hill is a challenging one, and now we can do a better job of attracting enthusiasts who can handle all the hill has to offer."
The Mont Ripley material currently on Trail Genius is just the beginning, Marr says. Over the coming winter season, the Trail Genius team plans to work with Mont Ripley to record even more video—multiple points of view and with different weather conditions, for example.
"We even plan on using a drone to film the terrain park later this year," adds Sirdenis. "How cool is that?"
Michigan Technological University is a public research university, home to more than 7,000 students from 60 countries. Founded in 1885, the University offers more than 120 undergraduate and graduate degree programs in science and technology, engineering, forestry, business and economics, health professions, humanities, mathematics, and social sciences. Our campus in Michigan's Upper Peninsula overlooks the Keweenaw Waterway and is just a few miles from Lake Superior.