Adrienne Minerick Named AAAS Fellow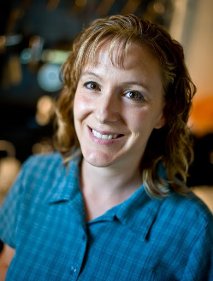 December 2, 2013—
Michigan Technological University's Adrienne Minerick has been named a Fellow of the American Association for the Advancement of Science.
Minerick, an associate professor of chemical engineering, is among 388 individuals selected for the honor this year for their efforts to advance scientifically or socially distinguished science applications.
Minerick was recognized "for leading contributions to the field of nonlinear electrokinetics, particularly discernment of surface molecules with electric fields in microdevices, and for leadership in the field as the AES Electrophoresis Society president."
Minerick researches portable "lab on a chip" techniques, which use hand-held devices to analyze small samples of blood or other body fluids. She has developed a quick, easy and accurate way to determine blood type by exposing small blood samples to an electrical field. Eventually, she hopes to be able to diagnose disease using related techniques. In one of her projects, she is working to detect oversized red blood cells, which are associated with a higher risk of heart attack and related cardiovascular problems.
Minerick was nominated by Nicholas Peppas, who holds the Fletcher Stuckey Pratt Chair in Engineering at the University of Texas at Austin and has received the Founders Award from the National Academy of Engineering. Kirk Schulz, president of Kansas State University and former chair of chemical engineering at Michigan Tech, supported her nomination.
Minerick recently completed a term as president of AES-Electrophoresis Society and was an invited contributor to the 2013 NAE Frontiers of Engineering Education Symposium. She received Michigan Tech's 2012 Fredrick D. Williams Instructional Innovation Award and is also a recipient of ASEE's Ray W. Fahien Award, which honors vision in chemical engineering education.
New Fellows will be honored on Feb. 15 at the AAAS Fellows Forum during the 2014 AAAS Annual Meeting in Chicago.
The American Association for the Advancement of Science (AAAS) is an international nonprofit organization dedicated to advancing science around the world. In addition to organizing membership activities, AAAS publishes the journal Science, as well as many scientific newsletters, books and reports, and spearheads programs that raise the bar of understanding for science worldwide.
Michigan Technological University (www.mtu.edu) is a leading public research university developing new technologies and preparing students to create the future for a prosperous and sustainable world. Michigan Tech offers more than 120 undergraduate and graduate degree programs in engineering; forest resources; computing; technology; business; economics; natural, physical and environmental sciences; arts; humanities; and social sciences.