Michigan Tech Athletes Advance University's Strategic Plan
By Jennifer Donovan | Published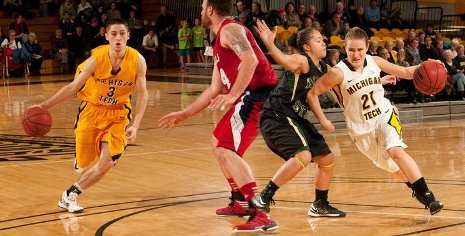 From their athletic achievements to their academic excellence, Michigan Technological University's student athletes embody the University's vision and promote its strategic plan, Athletics Director Suzanne Sanregret told the Michigan Tech Board of Trustees at its regular meeting today.
"We are here to celebrate the success we've had in the classroom and on the field, courts and ice," Sanregret told Board members in a report on Michigan Tech athletics. She cited four conference championships, plus the Great Lakes Invitational hockey championship. Sanregret also pointed out that student athletes' grade point averages are above those of the general student population, and six athletes were named All-American and Academic All-American.
Athletics contributes to Michigan Tech's mission and strategic plan in a variety of ways, the athletics director went on to say. The University's athletics programs attract outstanding students to Michigan Tech, focus public attention on the University through athletic and academic achievements and build community support and engagement, she said, noting that the Student Development Complex (SDC) hosted 1.8 million visitors during the past year. .
Sanregret reported that more than $7 million raised during the Generations of Discovery capital campaign that ended June 30 has enabled Michigan Tech Athletics to support partial scholarships for 254 of Tech's 335 student athletes, to add a women's soccer program, to install a new ice arena video scoreboard and hockey suites, and to upgrade SDC gymnasium seating.
Board Chair Steve Hicks thanked Sanregret for the report, remarking that "the quality of our students overall matches Tech's success in the athletics arena and the number of scholar-athletes we have. We are deeply grateful for the investment in athletics from the campaign and the ongoing support for the Athletics Department," he said.
Chief Financial Officer Dan Greenlee brought the Board good news. At the end of the fiscal year on June 30, the University was in the black. "The unaudited financials show the general fund as being positive by $170,000, and the current fund as positive by $540,000, " Greenlee said. "These positive results for the year just ended help increase the fund balance of each fund. The current fund balance at the fiscal year-end is estimated—unaudited—at $13,031,000."
In other business, the Board
learned from President Glenn Mroz that he was among 165 college and university presidents who signed a letter to President Barack Obama and Congress, urging them "to close the innovation deficit. The letter can be found at http://www.innovationdeficit.org/news.html.
granted emeritus rank to four retired professors: Marilyn Cooper and Elizabeth Flynn, Humanities; Thomas Grimm, Mechanical Engineering-Engineering Mechanics; and Susan Bagley, Biological Sciences.
appointed Board of Trustees members Steve Hicks, Paul Ollila and Terry Woychowski to the Michigan Tech Fund Board of Directors.
heard a report from David Reed, vice president for research, on research awards in fiscal year 2013, compared to FY 2012. Research funding saw an 11 percent increase in FY2013, Reed said. Research sponsored by industry rose 17.8 percent, from just over $6.9 million to almost $8.2 million, with the largest amount—nearly $3.8 million—coming from the automotive industry. Research funding from gifts rose 73.5 percent. Dollar amounts of awards received from the National Science Foundation (NSF), the National Aeronautics and Space Administration (NASA), the US Department of Defense and the US Department of Transportation rose during FY13, Reed said, as did funding from corporations, foundations and other organizations in support of academic programs. And numbers of patents and license agreements increased 35 to 37 percent.
Michigan Technological University is a public research university, home to more than 7,000 students from 54 countries. Founded in 1885, the University offers more than 120 undergraduate and graduate degree programs in science and technology, engineering, forestry, business and economics, health professions, humanities, mathematics, and social sciences. Our campus in Michigan's Upper Peninsula overlooks the Keweenaw Waterway and is just a few miles from Lake Superior.