Hockey Season Tickets Now on Sale for 2013-14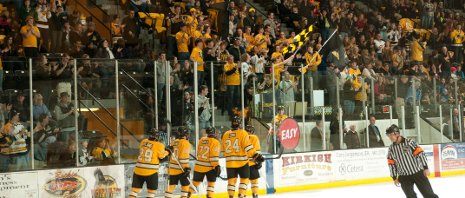 Michigan Tech's 93rd season of hockey begins in just two months, and season tickets for the campaign are available to the general public now. The Huskies will continue long-standing rivalries and develop new ones in the remixed WCHA in 2013-14.

The action begins Oct. 5 with a home date vs. Laurentian. Northern Michigan comes to town as a conference foe for the first time since 1997 on Oct. 26 and returns again on Feb. 21. Other highlights of the home schedule include a two-game series against Michigan State Nov. 8-9 and Winter Carnival Feb. 7-8 vs. Alabama-Huntsville.

The John J. MacInnes Student Ice Arena continues to be one of the best venues for college hockey in the country. With great sight lines and the addition of a 14-foot-wide video scoreboard in the offseason, fans won't miss any of the action.

In addition to significant cost savings, season tickets guarantee the same seats all season encompassing potential WCHA playoff games in March. Full season tickets are $279 for adults and $168 for youth (age 3 through grade 12).

Half season power packs are also available. Get either all 10 Saturdays or nine Fridays plus one Sunday. Cost per power pack is $150 for adults and $100 for youth.

Tickets may be purchased at BuyHuskiesTickets.com or by calling 906-487-2073. Fans are also encouraged to attend the season ticket kickoff event on Thursday, Aug. 8 at the MacInnes Student Ice Arena to test out seats and see the video scoreboard before purchasing. There will also be free food and drinks, games for kids, open skating and door prizes at the kickoff event.

Michigan Technological University is a public research university, home to more than 7,000 students from 60 countries. Founded in 1885, the University offers more than 120 undergraduate and graduate degree programs in science and technology, engineering, forestry, business and economics, health professions, humanities, mathematics, and social sciences. Our campus in Michigan's Upper Peninsula overlooks the Keweenaw Waterway and is just a few miles from Lake Superior.