Undergraduate Engineering Ranking Rises
By Jennifer Donovan | Published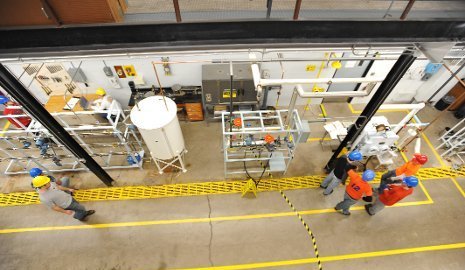 In the latest US News & World Report "Best Colleges" rankings released today, Michigan Technological University's undergraduate engineering programs ranked 64th in the nation among schools offering doctoral degrees, up two places from last year
"Michigan Tech has a strong undergraduate engineering program that produces high achievers who are sought out by industry. The University's improvement in the rankings shows that these efforts are beginning to be recognized nationally," said Bill Worek, dean of Michigan Tech's College of Engineering. "Since recently joining Michigan Tech, my focus is to enhance the visibility of the University and to expand the research program to continue this trend."
Among public universities, Michigan Tech's undergraduate programs in all disciplines placed 58th in the nation, and among national universities, Tech's undergraduate education placed solidly in what the magazine calls its first tier, ranking 120th of 199 first-tier universities. US News defines a national university as one that offers a full range of undergraduate majors as well as master's and PhD programs, and emphasizes faculty research.
Michigan Tech was also listed as an "A-Plus School for B Students." The category lists top-ranked universities that consistently consider and admit promising students whose high school grade point average is below an A.
"This is an important measure," said Provost Max Seel. "It reflects Michigan Tech's commitment to attracting and retaining a world-class and diverse student body and providing whatever they need to succeed in school and in life."
Rankings don't tell the whole story, Seel added. "While we appreciate the recognition from US News, we know that the best measure of our success is the success of our graduates," he said. "Employers recognize the value of a Tech education. We already have 261 companies signed up to recruit our students during the upcoming fall Career
Fair, up from 236 a year ago, so we can expect to meet or even surpass last year's outstanding placement rate of 94.6 percent."
The U.S. News rankings system rests on two pillars: quantitative measures that education experts consider reliable indicators of aca­demic quality—such as test scores of entering freshmen, faculty to student ratio, class size and graduation rates—and on assessment by administrators at peer institutions.
Michigan Technological University is a public research university, home to more than 7,000 students from 54 countries. Founded in 1885, the University offers more than 120 undergraduate and graduate degree programs in science and technology, engineering, forestry, business and economics, health professions, humanities, mathematics, and social sciences. Our campus in Michigan's Upper Peninsula overlooks the Keweenaw Waterway and is just a few miles from Lake Superior.