Boulders Rock and Roll in New Mining Garden
By Marcia Goodrich | Published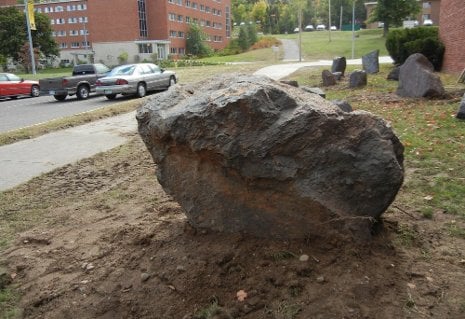 A rock garden of a different kind is taking shape at Michigan Technological University.
The new Mining Boulder Garden will highlight the Upper Peninsula's mining heritage and Michigan Tech's role in the industry. It comes at a time when interest in mining is on the rise and Michigan Tech is reviving its mining degree program.
It will also provide a rare glimpse into an earlier epoch through its centerpiece, a Sudbury boulder. The three-ton rock was formed 1.8 billion years ago when a meteorite measuring six to nine miles across slammed into what is now Sudbury, Canada. It blew up on impact, and debris including cobbles, pebbles, and dust produced from that colossal impact was carried hundreds of miles through the air, eventually falling in the UP and Minnesota. One such piece of debris landed at a spot off County Road 510 near Marquette and now lives at Michigan Tech.
It includes the chaotic record of rock fallout that devastated a huge area, "everything from hell to breakfast," says Bill Rose, a professor of geological and mining engineering and sciences. "It's got pieces of everything that was here back then."
The garden also features several smaller boulders donated by Cliffs Natural Resources, which come from the company's Empire and Tilden mines in Marquette County.
"Most of them are a banded ore formation," says Rose. "They were formed in the early ocean, which contained a lot of dissolved iron." About three billion years ago, the blue-green algae that lived in Earth's ancient seas produced oxygen, which reacted with the iron and caused it to precipitate out of the water. Somehow the black iron oxide was pressed between bands of rusty quartz, forming a layer cake of rock. No one really knows how that happened, Rose says. "It's part of the mystery."
The Mining Boulder Garden is an educational initiative of the Department of Geological and Mining Engineering and Sciences and the Seaman Mineral Museum. It will also be a welcoming place, says Lynn Watson, the University gardener.
"People love our other boulder garden, and this will be against an east wall, protected from the wind," she says. "It will be a good place to study." The Mining Boulder Garden will have a different look and feel from its predecessor, she notes. "These are mine rocks, and those are rolling-around rocks. This will be aesthetically separate."
And of course, it will feature that impressive remnant of the Sudbury meteorite strike.
"This is the best piece of its kind around, a cosmic oddity," says Rose. "We're really lucky to have it."
A video about Michigan Tech's gardens is posted on YouTube.
Michigan Technological University is a public research university, home to more than 7,000 students from 54 countries. Founded in 1885, the University offers more than 120 undergraduate and graduate degree programs in science and technology, engineering, forestry, business and economics, health professions, humanities, mathematics, and social sciences. Our campus in Michigan's Upper Peninsula overlooks the Keweenaw Waterway and is just a few miles from Lake Superior.