Michigan Tech Wins National Diversity Award
By Jennifer Donovan | Published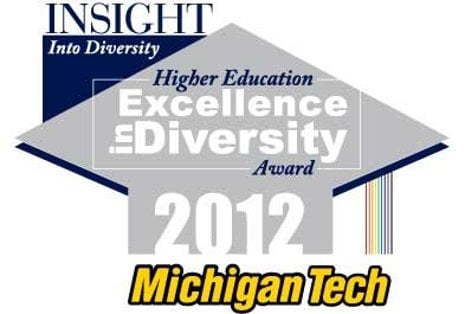 Michigan Tech has received a national Higher Education Excellence in Diversity (HEED) award from the magazine, INSIGHT into Diversity. The award cites Michigan Tech for "its outstanding commitment to diversity and inclusion for the year 2012."
The award, announced on Nov. 13, 2012, went to 48 colleges and universities nationwide. They will be featured in the December 2012 issue of the magazine, the oldest and largest diversity-focused publication in higher education.
Four Michigan colleges and universities were among the diversity award winners. In addition to Michigan Tech, they are Michigan State and Ferris State Universities and Delta College.
The magazine selected Michigan Tech based on the University's "exemplary diversity and inclusion initiatives relating to gender, race, ethnicity, veterans, people with disabilities and members of the lesbian, gay, bisexual and transgender (LGBT) community." The judges particularly praised:
Tech's minor in diversity studies, offered by the Department of Humanities.
Mandatory supervisor training including modules on diversity and inclusion.
Cultural competency training for Student Life staff, both professionals and students.
Summer programs targeting middle and high school students underrepresented in the sciences.
The University's National Science Foundation-funded ADVANCE Program, which focuses on recruitment, retention and promotion of women in the sciences, technology, engineering and mathematics (STEM) fields.
"We are excited and honored that INSIGHT into Diversity is recognizing Michigan Tech's institution-wide diversity efforts," said Chris Anderson, special assistant to the president for institutional diversity. "Our comprehensive programs demonstrate that the University community is committed to building a teaching and research environment that reflects the diversity of the world we live in and values the contribution of each unique individual by continuing to ensure an inclusive campus climate for students, faculty and staff."
"We hope the HEED award serves as a reminder that diversity and inclusion must remain priorities in the 21st century higher education landscape," said Lenore Pearlstein, publisher of INSIGHT into Diversity. "As students begin to enter the workforce and a global society, they must first be surrounded by and supported by faculty and staff that understand the differences among cultures and their needs."
Michigan Technological University is a public research university, home to more than 7,000 students from 60 countries. Founded in 1885, the University offers more than 120 undergraduate and graduate degree programs in science and technology, engineering, forestry, business and economics, health professions, humanities, mathematics, and social sciences. Our campus in Michigan's Upper Peninsula overlooks the Keweenaw Waterway and is just a few miles from Lake Superior.