Michigan Tech's Durdu Guney Receives ORAU Award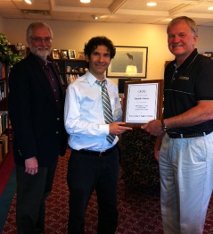 Durdu Guney, center, has received a 2012 Ralph E. Powe Junior Faculty Enhancement Award. Also pictured are Vice President for Research David Reed, left, and Michigan Tech President Glenn Mroz.
May 18, 2012—
Oak Ridge Associated Universities has selected Durdu Guney of Michigan Technological University to receive a 2012 Ralph E. Powe Junior Faculty Enhancement Award.

Guney, an assistant professor of electrical and computer engineering, is one of 30 award recipients chosen from among 111 applicants representing ORAU member institutions.

"The peer-review evaluation and selection process is rigorous and involves outstanding scientists from across the nation," said ORAU President H. A. Page. The prestigious $5,000 research award, matched by the home institution, is designed to enhance the recipient's career development.

Guney will use the award to advance his research into metamaterials and superlenses.
Michigan Technological University (www.mtu.edu) is a leading public research university developing new technologies and preparing students to create the future for a prosperous and sustainable world. Michigan Tech offers more than 120 undergraduate and graduate degree programs in engineering; forest resources; computing; technology; business; economics; natural, physical and environmental sciences; arts; humanities; and social sciences.