Enterprising High School Students Showcase Accomplishments in Detroit
By Jennifer Donovan | Published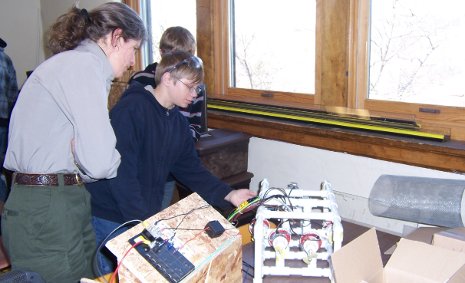 Michigan Technological University and General Motors are sponsoring a High School Enterprise Showcase on Thursday, May 3 in the GM Renaissance Center in Detroit. Teams of high school students from Detroit, elsewhere in Michigan, and as far away as Puerto Rico, Atlanta and Chicago will present their work to find scientific and technological solutions to real-world problems in business and industry.
Science, technology, engineering and mathematics (STEM) are gateways to the future. So why, thought Michigan Tech, should students have to wait until they are in college to find out how STEM studies can be turned into exciting, rewarding careers?
So Michigan Tech developed the High School Enterprise program to give high school students a taste of what life is like as a working scientist, technologist or engineer. Like the successful Michigan Tech Undergraduate Enterprise Program on which it is modeled, High School Enterprise teams tackle real-world problems provided by industry sponsors. Organized like a business, the student team will apply what they've learned in class to developing workable, marketable technological solutions.
The National Science Foundation (NSF) funded the project with a $1.6 million grant.
The program's goal is to motivate high school students to pursue education and careers in the STEM fields, to help provide a skilled, technologically savvy workforce.
High School Enterprise is a four-way partnership involving the student team, the University, industry and the community. Each participating high school forms a student team with a teacher/coach.
Because each school and community varies in size, economic resources and access to industry sponsors, the High School Enterprise Program has developed flexible funding and sponsorship models, including corporate founders, corporate sustaining partners, regional corporate partners and small business/booster club supporters.
Corporate founders, like GM, sponsor projects that align closely with their business interests. They also provide support to promote STEM workforce education and development.
"GM eagerly jumped at the opportunity to be the first corporate host for the HSE Showcase," said Jason Nolte, GM performance engineer and event coordinator. "It is a great opportunity for the students and supports early STEM education awareness."
Terry Woychowski, GM vice president, global quality and vehicle launches, will host the wrap-up program, and US Representative Hansen Clarke is scheduled to speak. Michigan Senator Hoon-Yung Hopgood is also scheduled to attend.
The 12 High School Enterprise teams exhibiting their projects at the May 3 Showcase in Detroit include:
Dollar Bay High School, Dollar Bay, Mich., where students are working on zebra mussel mitigation at Isle Royale National Park, designing remotely operated vehicles (ROVs) to monitor, research and help park rangers locate the invasive species
University Prep High School, Detroit, Mich., where students are converting a battery powered vehicle to perform autonomously.
Manuela Toro Morice High School, Caguas, Puerto Rico, where students are developing a lightweight, cost-effective, human-powered commuting vehicle for use in urban areas. This team partnered with the students from University Prep High School.
Doug Oppliger, who teaches engineering fundamentals at Michigan Tech, heads the High School Enterprise project. Oppliger is a registered professional engineer with 12 years of K-12 science and math teaching experience and five years in industry.
Michigan Technological University is a public research university, home to more than 7,000 students from 54 countries. Founded in 1885, the University offers more than 120 undergraduate and graduate degree programs in science and technology, engineering, forestry, business and economics, health professions, humanities, mathematics, and social sciences. Our campus in Michigan's Upper Peninsula overlooks the Keweenaw Waterway and is just a few miles from Lake Superior.