Mechanical Engineering Graduate Program Rises in Rankings
By Jennifer Donovan | Published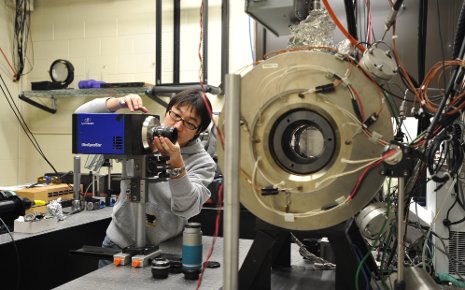 Michigan Technological University's graduate program in mechanical engineering-engineering mechanics rose in US News & World Report's graduate school rankings this year, placing 44th in the nation. That is four points better than last year's ranking.
The US News & World Reports 2013 rankings of graduate engineering schools were released on March 13, 2012.
Overall, Michigan Tech's College of Engineering placed 88th of 194 graduate engineering programs ranked nationally, well within the top half of programs nationwide. Tech shares this ranking with Rochester Institute of Technology, the University of New Mexico, the University of Alabama-Huntsville and the University of Texas at Arlington.
In the 2012 rankings, released in March 2011, Michigan Tech's graduate engineering programs ranked 85th in the nation.
Other engineering specialties ranked at Michigan Tech this year include:
Environmental engineering—31st.
Materials science & engineering—51st.
Civil engineering—54th.
Chemical engineering—91st.
Computer engineering—91st.
Electrical engineering—102nd.
Geology, ranked by US News as a science graduate program rather than an engineering specialty, placed 81st.
Each year, US News ranks graduate school programs in business, education, law and medicine. Every two years, they rank other programs such as the sciences. The overall rankings are based on two kinds of data: opinions of deans, program directors and senior faculty at more than 1,200 institutions, and statistical indicators of excellence. These indicators include the percentage of faculty who are members of their most selective professional organization. For engineering schools, this is the National Academy of Engineering. Other indicators evaluated include the percentage of PhD students to faculty, the average Graduate Record Exam score, graduate enrollment, research expenditures and PhDs granted.
Rankings in specialties within engineering or other fields are based solely on assessments by department heads in each specialty who rate other schools on a 5-point scale.
Michigan Technological University is a public research university, home to more than 7,000 students from 54 countries. Founded in 1885, the University offers more than 120 undergraduate and graduate degree programs in science and technology, engineering, forestry, business and economics, health professions, humanities, mathematics, and social sciences. Our campus in Michigan's Upper Peninsula overlooks the Keweenaw Waterway and is just a few miles from Lake Superior.