Huskies Student-Athletes Recognized for Academic Achievement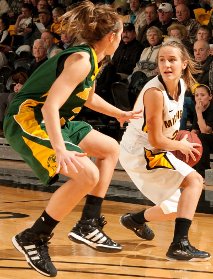 Sam Hoyt, academic all-district.
March 23, 2012—
It was a very good year on the field, court and ice for the Huskies, and they gave stellar performances in the classroom, too.
The women's basketball team finished the season 20-7 overall and 14-5 in the Great Lakes Intercollegiate Athletic Conference. As a team, the women placed six players on the GLIAC academic excellence honors (3.5 GPA or higher) and five all-academic recipients (3.0–3.49). Notable among the women was math major Sam Hoyt, who, in addition to an honorable mention all-American for her playing ability, secured academic all-district honors on the first team.
The men's basketball team finished in first place in the GLIAC North Division, and they placed five players in the GLIAC academic excellence category and two received all-academic honors. Mike Hojnacki, a mechanical engineering major, also was awarded academic all-district honors on the first team. Also, junior Ali Haidar earned third-team all-American status for his outstanding play.
The football Huskies finished 7-4 and 6-4 in the GLIAC. The team featured an academic all-American, junior defensive tackle Jacob Clark, who majors in civil engineering. Clark also was honored with a GLIAC Commissioner's Award for academic and athletic accomplishment and was an academic all-district honoree. Clark and Todd Storm also made all-American on the field. The football Huskies totaled seven players achieving GLIAC academic excellence and thirteen named GLIAC all-academic.
The men's and women's Nordic ski teams were loaded with talent. Two skiers qualified for national competition—Mikko Harju and Deedra Irwin—and Irwin won a national championship in a relay. Also, twelve skiers made all-academic honors with GPAs of 3.5 or higher.
In fact, more than 100 athletes have won academic honors over the past year, including members of the women's soccer and volleyball and men's and women's tennis teams.
"It is great to see so many of our student-athletes recognized for their academic performance," said Bill Sproule, faculty athletic representative at Michigan Tech. "I am so proud of all of our student-athletes and their dedication and hard work."
Michigan Technological University (www.mtu.edu) is a leading public research university developing new technologies and preparing students to create the future for a prosperous and sustainable world. Michigan Tech offers more than 120 undergraduate and graduate degree programs in engineering; forest resources; computing; technology; business; economics; natural, physical and environmental sciences; arts; humanities; and social sciences.