Engineering Better Bikes for Wounded Vets
By Marcia Goodrich | Published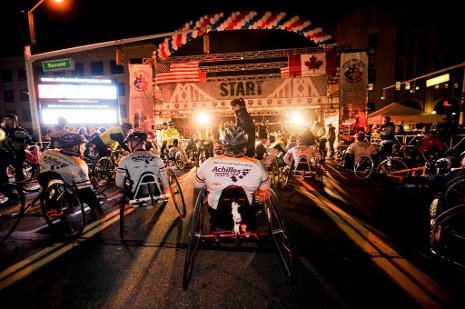 Michigan Tech's involvement with the Achilles Freedom Team of Wounded Veterans began when Linda Stouffer called Terry Woychowski on behalf of the General Motors Military Discount Program and asked for advice.
Soldiers were coming back from Afghanistan and Iraq with crippling injuries—leg amputations, paralysis—but with their competitive drive fully intact. Through Achilles International's Freedom Team of Wounded Veterans, they were channeling that energy into marathon competitions. Instead of running, they drove handcycles: three-wheel, hand-driven wheelchairs.
GM had provided handcycles to the team members, but they had design issues: they were unstable, or the components were breaking down under the pressure of racing. What could GM do to help? Stouffer asked.
"Immediately, a light went on," said Woychowski, GM's vice president for global quality and vehicle launch. "Why not go after two birds with one stone? I have had such excellent experiences with Senior Design at Michigan Tech. What if we sponsor a Senior Design activity based on the Achilles project? We'd not only be helping wounded warriors, we'd be supporting STEM [science, technology, engineering and math] education."
Stouffer contacted Research Engineer II Robert DeJonge, who coordinates the Senior Capstone Design program in the Department of Mechanical Engineering–Engineering Mechanics, and he jumped at the chance to involve his students in this project. The scope was bigger than the typical Senior Design team could handle in a single year, however. So, they developed a strategy, and the Huskies Helping Heroes project was born.
GM would support four Senior Design teams from January through December 2012. Advised by DeJonge, Associate Professor Michele Miller and Instructor Adam Loukus, each team would work with a soldier or veteran on the Freedom Team with the aim of designing a better handcycle. In fall 2012, the teams would integrate their best ideas into two prototypes.
The goal is to unveil one of the prototypes during the Army-Navy game on December 8.
Meanwhile, a fifth team would be organized in fall 2012 to carry those ideas forward, in time to provide a prototype that a Freedom Team member could ride in the Detroit Free Press Talmer Bank Marathon, on Oct. 21. GM would film a documentary of the entire Huskies Helping Heroes effort.
"Beyond the marathon, many scenarios are possible, but I'm hoping for continued development and possible small-scale production of the improved machine in some form," said DeJonge.
Woychowski, a member of the University's Board of Trustees and a 1978 graduate in mechanical engineering, recruited GM engineers Alexa Ellswood and Sarah Pearson, who also studied mechanical engineering at Michigan Tech, to serve as the teams' key contacts at GM.
______________
The first phase of that process wrapped up at the end of the spring semester, when the teams presented their designs to Ellswood, Pearson and Stouffer.
As the afternoon drew to a close, the engineers prepared to select the team with the best design. This was supposed to be fun and exciting, but as they consulted, there was an awkward moment. All the teams had worked very hard and done very well, and when there's a winner, there must by implication be losers. "It might have been a bad idea to do this," Ellswood said under her breath.
Nevertheless, they made their decision, because the students building their handcycle next fall will need a starting point, and this "best design" will be it. "You guys have all done a really good job," said Pearson, and announced the runner up: Copper Country Solutions. "But one team really focused on the concerns of the athletes, and that was Patriot Power Performance."
"This was really a hard choice," Ellswood told the students. "What I've seen among you is phenomenal interaction. I'm tremendously proud of all of you guys. You have no idea."
James Cook, leader of Patriot Power Performance, was also proud of his team's showing, but most of all, he was just happy to be there. "I'm an avid cyclist myself, and of all the Senior Design projects, this interested me the most, by far," he said.
Woychowski couldn't be more pleased with their progress.
"Sarah and Alexa took it on and have done a phenomenal job," Woychowski said. "They helped build an esprit de corps and set high expectations. I've been knocked out by what I've seen, and I'm looking forward to the next semester."
The success of the entire project hinges on how well the students work with—and listen to—Freedom Team members, he said.
"You can come up with a brilliant design, but if the customer doesn't like it, it doesn't matter," he said. "It was tough for the students this year; they had to talk with the guys about their injuries and their issues: keeping their stump in position, or getting spasms, or needing the right kind of safeguards so their limbs would be secure."
In the beginning, the students found the frank talk uncomfortable. Then they got over it. "They realized that these guys are just athletes who want to compete and win," he said. "It's not only an engineering lesson; it's also been a life lesson.
"If they put the right kind of energy into this project, it will be an indelible memory," Woychowski said. "There will be a day when they tell their grandchildren, 'I did this.'"
Michigan Technological University is a public research university, home to more than 7,000 students from 60 countries. Founded in 1885, the University offers more than 120 undergraduate and graduate degree programs in science and technology, engineering, forestry, business and economics, health professions, humanities, mathematics, and social sciences. Our campus in Michigan's Upper Peninsula overlooks the Keweenaw Waterway and is just a few miles from Lake Superior.