Hot Rods, Cool Technology: Michigan Tech and the Green Racing Initiative
By Marcia Goodrich | Published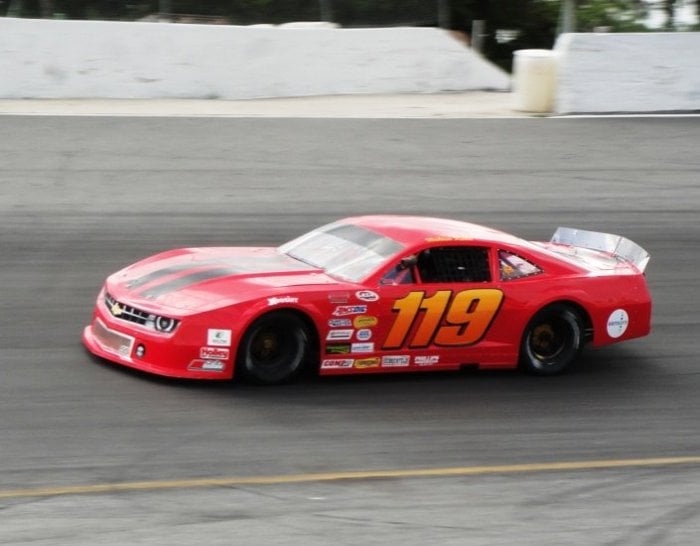 When you think of environmentally friendly sports, auto racing probably doesn't spring immediately to mind. But the Green Racing Initiative aims to change that.
"Our directive is to bring green technologies to the motor sports industry," says research scientist Jeremy Worm, who leads Michigan Tech's involvement in the initiative. "For the racing community to embrace this idea, we have to show them that you can reduce your carbon footprint and go faster."
The Green Racing Initiative is organized by Circle Track Magazine, Argonne National Laboratory, General Motors and McFarland Consulting. Ultimately, its aim is to bring environmentally friendly technologies and fuels from the racetrack to Main Street, in part by capitalizing on the public's interest in motor sports.
Michigan Tech became involved about a year ago, when it was time to bring the project into the lab and start getting answers to some tough questions about what was happening inside the engine. In particular, how were these alternative fuels and advanced technologies really affecting the way the engine operates? "ANL knew we were the right place for that," said Worm.
Using cutting-edge instrumentation, Worm's team studied how green technologies affect the performance of a Chevy Camaro racing engine.
"Initially we looked at E85," he said, since the 85 percent ethanol, 15 percent gasoline fuel slashes emissions of the greenhouse gas carbon dioxide. "We also wanted to prove that the car could go even faster with E85."
They succeeded. "We made more power on E85," he said. "Plus, it's much cheaper than racing fuel, which can cost as much as $12 a gallon. How many times does this happen, that you can make more power with less money and the same engine?"
Parts like hoses and gaskets are the only components that would need to be changed in an ethanol-fueled race car. And ethanol's lower mileage wouldn't be a problem for short races.
Worm also evaluated how the engine performed with electronic engine controls (which improve mileage and reduce emissions) compared to the carburetors beloved by racing teams. "They are reluctant to go to fuel injection, because they think it's complicated and unreliable," said Worm, who, in his drag-racing youth, did his share of tinkering with carburetors. "We wanted to show that fuel injection is also tunable, like a carburetor, that it can deliver more power, and in doing so we wanted to take away the mystery and really uncover and explain the science behind why fuel injection is better."
So, they instrumented their Chevrolet Performance engine provided by GM so that they could see the actual pressure inside the cylinders while the engine was running and examined the combustion pattern in all eight cylinders. "We were able to show that with a carburetor, the burn was all over the ballpark," Worm said. "But with fuel injection, we were able to keep each cylinder working at its best."
Their next project will involve spark plugs employing advanced igniter technology. Worm is also looking forward to some more-extreme experimentation. "We've been talking about increasing the compression ratio. We want to push the engine to its limits and find out what happens when we take full advantage of E85," he said.
Further down the road, he would like to demo these Green Racing concepts to racing pros, courtesy of Michigan Tech's new mobile lab, housed in a trailer behind a semi. "We could run an engine on regular gas and on E85 and show people how, and why, the power changes," he said.
Eventually, the Green Racing Initiative aims to introduce hybrid powertrains to the world of motor sports. "Racing requires a lot of braking, and maybe you could use the braking energy going into the turn to help you accelerate out of the turn," Worm muses.
Michigan Technological University is a public research university, home to more than 7,000 students from 54 countries. Founded in 1885, the University offers more than 120 undergraduate and graduate degree programs in science and technology, engineering, forestry, business and economics, health professions, humanities, mathematics, and social sciences. Our campus in Michigan's Upper Peninsula overlooks the Keweenaw Waterway and is just a few miles from Lake Superior.